FHA 203k Home Renovation Loan
The FHA 203k Home Renovation Loan is a loan program that allows you to acquire a "fixer-upper" and turn it into your dream home.  Let's face it, sometimes purchasing a new home is out of the question.  Maybe you don't like new construction or you prefer homes with a little "character", whatever the case, the FHA 203k home renovation loan might be for you.
In a nutshell, what the FHA 203k loan program does is it provides you with funds for both the purchase and renovation of a home.  The entire cost is included in one mortgage loan, so once you close on a home, funds to renovate are held in escrow to pay for pre-determined renovation work to be done by pre-approved renovation contractors.
The FHA 203k helps home buyers who can see the potential in a fixer-upper, but cannot purchase it because the bank will not lend you the money until the repairs are complete, but the repairs can only be done after you close on the house, which results in a stalemate.
With the 203(k) renovation loan you can get past this obstacle allowing you to borrow the funds you need for the purchase and repair of a home conveniently rolled into one mortgage.
This loan programs is available only to owner/occupants who intend to live in the home as their primary residence.  The standard FHA loan requirements remain the same including a 3.5% down payment, a minimum 640 credit score, loan limits and other requirements.
FHA 203k loans are available in two types:
The Standard 203k is intended for more complicated projects that require any engineering, or architectural drawings and inspections.  Structural changes like adding a room, or exterior grading or a complete overhaul of a house is what a Standard 203k is utilized for.
– Any property condition
– Loan limit is $335,000
– Minimum $5,000 in repairs
– Process begins with a 203k Feasibility or Complete Home Inspection
– Min. 3.5% down
– Owner Occupants only
– Project budget must include contractor labor.
The Streamlined 203k is designed for less extensive improvements.  The Streamlined 203k generally is a simpler, less costly option.
– Less than $35,000 in renovations
– No structure repairs or modifications (no requirement for a consultant, architect or engineer)
– Feasability study is optional
– The Contractor bid can act as the work write-up
– 1/2 of the repair budget is disbursed at closing with the remaining half disbursed after completion of work.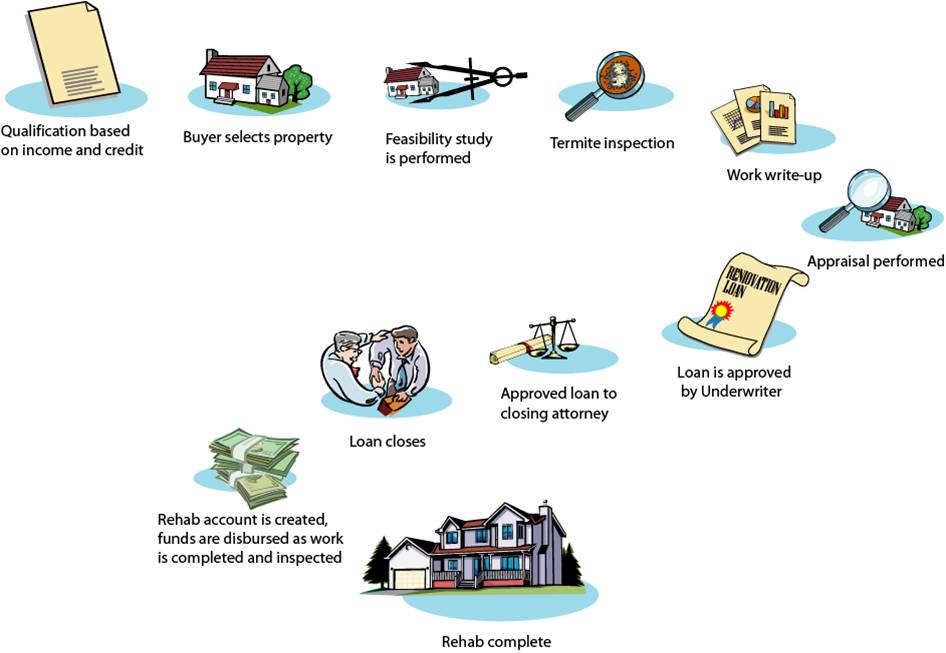 Find out more about the 203k Home Renovation Loan by visiting the HUD website or ask a qualified lender for advice.  If you are ready to find your new home, just contact me below!
[contact_form]