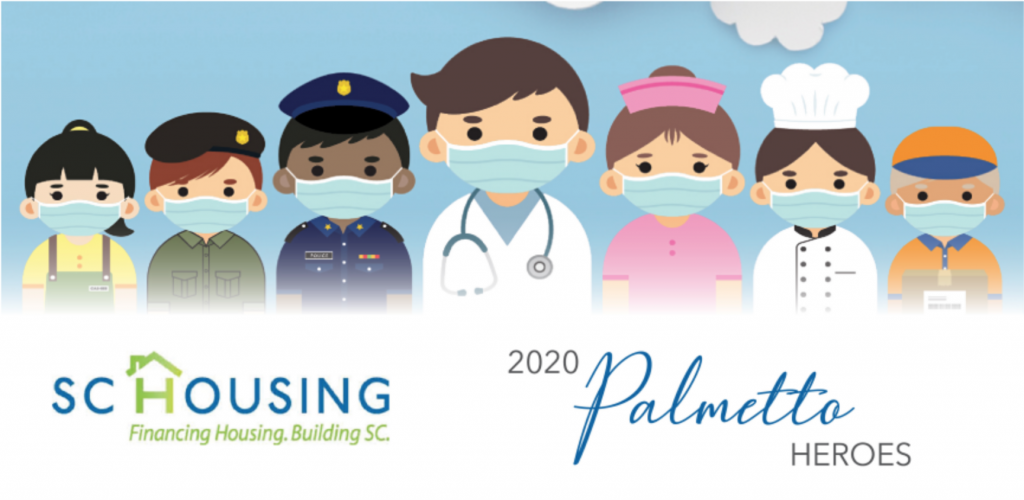 2020 Palmetto Heroes Program – Starts June 8, 2020
The SC State Housing Palmetto Heroes Program is back again for 2020 and this year it is expanding to include more essential workers.
Since 2006, the Palmetto Heroes program has provided low-interest home loans to law enforcement, firefighters, teachers, correctional officers, EMs personnel and veterans.  In 2020, the program is now available to licensed medical professionals, grocery store employees and package delivery drivers, namely those who have kept the state running during the COVID-19 outbreak.
Funding is available on a first-come, first-served basis.  Borrowers must have a fully executed sales contract for the purchase of a home prior to locking the interest rate that this program offers.  The Palmetto Heroes program is one of the most popular first-time home buyer programs in South Carolina, so if you are employed in one of the qualifying professions below and are currently looking to purchase a home, then contact me today!
This year our Palmetto Heroes include:
(Must be employed Full-time)
•   Law Enforcement Officers
•   Teachers
•   Nurses and Certified Nursing Assistants
•   Firefighters
•   Veterans
•   Emergency Medical Services Personnel (EMT's)
•   SC National Guard (Active members; Army or Air, SC State Guard)
•   Paramedics
•   Correctional Officers
NEW for 2020
•   Licensed Medical Professionals
•   Delivery Drivers (including USPS, UPS, FedEx, DHL, and Amazon)
•   Grocery Store employees
Those who qualify may get a 3.5% interest rate through the First-time Homebuyer Program with SC Housing, as well as $10,000 in forgivable down payment assistance.
WHAT YOU HAVE TO DO:
The first step is to get approved by a participating lender and let them know you want to use the Palmetto Heroes program to reserve your funds.  Here is my contact that has helped my clients secure this opportunity.
Loan Officer: Brandon L Andrews
Guild Mortgage
4921 Centre Pointe Dr., Suite 100
North Charleston, SC 29418
843-212-3963
brandona@guildmortgage.net
Apply Online: http://www.guildmortgage.com/brandonandrews
Once you are qualified, then it is time to contact a Realtor, (like me!) to help you find your new home!  Once we find your home, make an offer, and it is accepted, we will then turn the contract over to your lender to get started with the application for the Palmetto Heroes program!  It's that simple!
For more information, contact SC Housing at 1-800-432-5007 or visit: https://schousing.com/Home/Palmetto-Heroes.