A recent study done by Realtor.com found that as social distancing becomes the norm during this COVID-19 outbreak, the pandemic has not only changed the way homebuyers look for and buy property (virtual tours, live stream open houses, electronic closings), it has also changed what they desire in a home.
Not only are homebuyer's willing to spend more on a home to get what they want, but they are also more inclined to buy a house with the following amenities: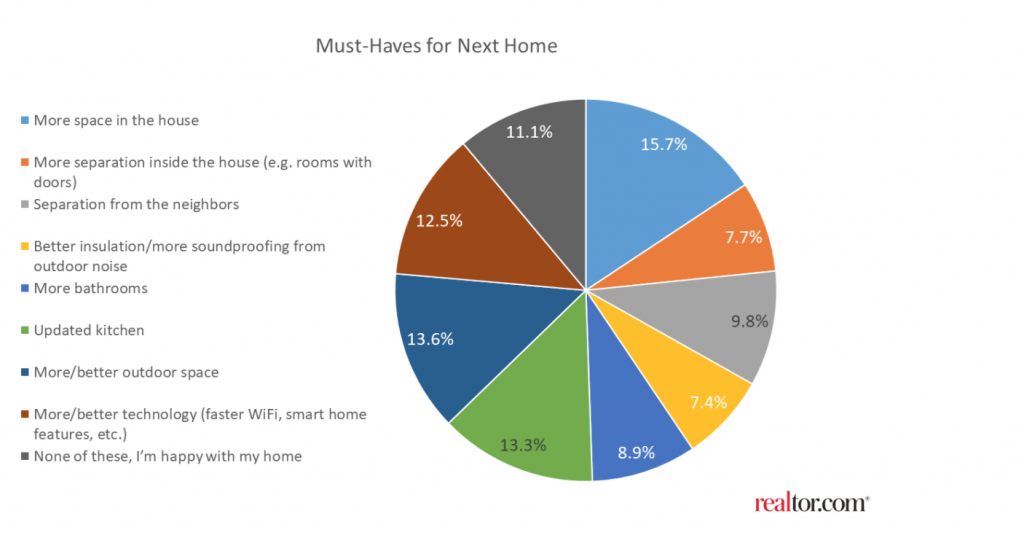 The top 4 are interesting and show how a pandemic and sheltering at home have changed what people now value in a home.
More space in the house – 15.7%
More/better outdoor space – 13.6%
Updated Kitchen – 13.3%
More/better technology (faster WiFi, smart home features, etc.)
As more and more people get used to social distancing and not spending as much time outdoors they want to make sure that where they currently live is as comfortable as possible. Just look at what people said were their primary difficulties while sheltering at home: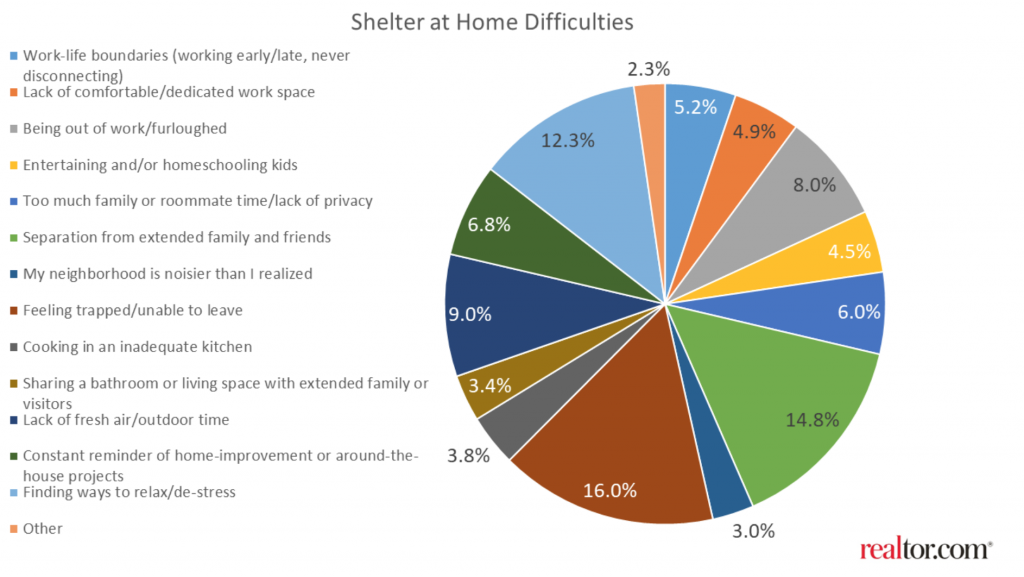 No wonder homebuyers are looking for homes with more space, because they are feeling trapped and unable to leave in their current home spaces. The top four difficulties people are facing right now are:
Feeling trapped/unable to leave – 16%
Separation from extended family and friends – 14.8%
Finding ways to relax/de-stress – 12.3%
Lack of fresh air/ outdoor time – 9%
TOP 3 HOMEBUYERS WANTS AND WHAT SELLERS CAN DO TO SELL THEIR HOMES USING THIS INFO
Using this data, there are essentially three must-have things homebuyers are currently looking for in a home to feel comfortable living in during a pandemic and post-pandemic. Understanding these three things as a home seller can mean the difference between you selling your home quickly or waiting until the pandemic is over to finally find a buyer.
Outdoor living space – A yard, a garden, a patio, a terrace. Just something that will allow you the ability to get fresh air and sunlight, while still keeping a safe distance from others. The extra space will also benefit those with pets and would allow for larger family gatherings when the pandemic is over.
WHAT SELLERS SHOULD DO – spend a little more money making your current outdoor space really shine. At a minimum, mow the lawn, edge, add some color, lay down some fresh mulch. Just make sure whatever outdoor space you currently have looks as good as it can be so homebuyers can visualize themselves enjoying the outdoors there.
More space in the house – People are looking for flexible space. If you're living in a 2 bedroom house, that house with the third bedroom that can be converted to a home gym looks a lot better. With many homebuyers now working from home, having an extra space for a home office or a yoga room might be worth paying extra for.
WHAT SELLERS SHOULD DO – Stage your home to show off an extra room as a flexible area. You could set it up as a home gym, office, a playroom. Whatever you do, just give homebuyers the ability to imagine being able to transform the room into whatever they see fit.
An Open kitchen – Since more people are cooking at home and the popularity of home-delivered meal kits like Sun Basket, Blue Apron, Hello Fresh, having a nice open kitchen has become a must-have and is something homebuyers will spend more to have.
WHAT SELLERS SHOULD DO – Even if your kitchen is a little small and outdated, you can do simple things like changing light fixtures to brighten the room, or consider repainting the kitchen to a neutral color to brighten it up! If you don't have the budget for a full renovation, just taking all those gadgets off the counter can make a world of difference.
If you want more tips on what you can do to sell your home quicker during COVID, text or call me anytime at (843) 714-3855.