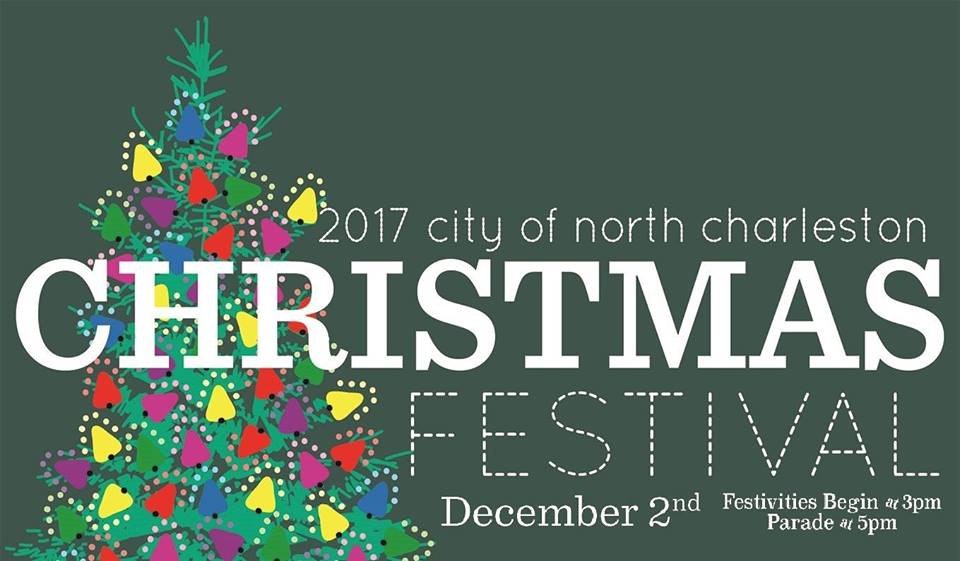 Christmas Festival and Parade 2017 – Park Circle
The City of North Charleston presents the 2017 Christmas Festival and Parade! On Saturday, December 2nd come out and enjoy this annual family friendly event that brings together people from all over North Charleston to celebrate the season in style.
The Festival starts at 3pm with live music both indoors and outdoors at the Felix Davis Community Center, with DJ Moo Moo on the one's and two's on the outdoor stage and instrumental music by Wayne Daws in the community center lobby. If that's not enough, there will also be roving carolers from the Charleston Carolina company serenading festival goers with the latest in holiday jams.
At 5pm, Santa Claus makes his way to the Circle, so you will want to head over and set up your chairs along the parade route that starts at the intersection of Mixson Ave. and E Montague Ave. The parade will head along E Montague and around Park Circle and then head back down E Montague back to the start. If you don't get to see him at the parade, don't worry he'll be chilling in the community center auditorium after the parade until 8pm so you can make your gift requests there.
Tons of food and entertainment will be on-site. Just check out the offerings below:
ENTERTAINMENT
Outdoor Stage behind Felix Davis Community Center:
3:00-5:15pm – Dj Moo Moo
6:15-8:00pm – The Zandrina Dunning Excperience
FOOD
Charleston Festival Foods
Zeus Grille I Seafood
MYA'S GRILL
Steve's Skins
Holy City Popcorn Company
The Ice Cream Team of Charleston, SC
Kona Ice Charleston SC "Lowcountry Kona"
Double H Dogs
Roti Rolls
Big Daddy's Pork Skins
Borimex, LLC
Jimmy Brown's Peanuts
ChuckTown Mobile Seafood & Cafe'
Admission to the event is FREE and parking is FREE, just keep in mind that Park Circle will shut vehicle traffic down around the circle starting at 2pm. The best place to park would be the islands around Park Circle.
If you can't make it to the parade, then come to the Christmas Tree Lighting that takes place the evening before on December 1 at 6:00pm.