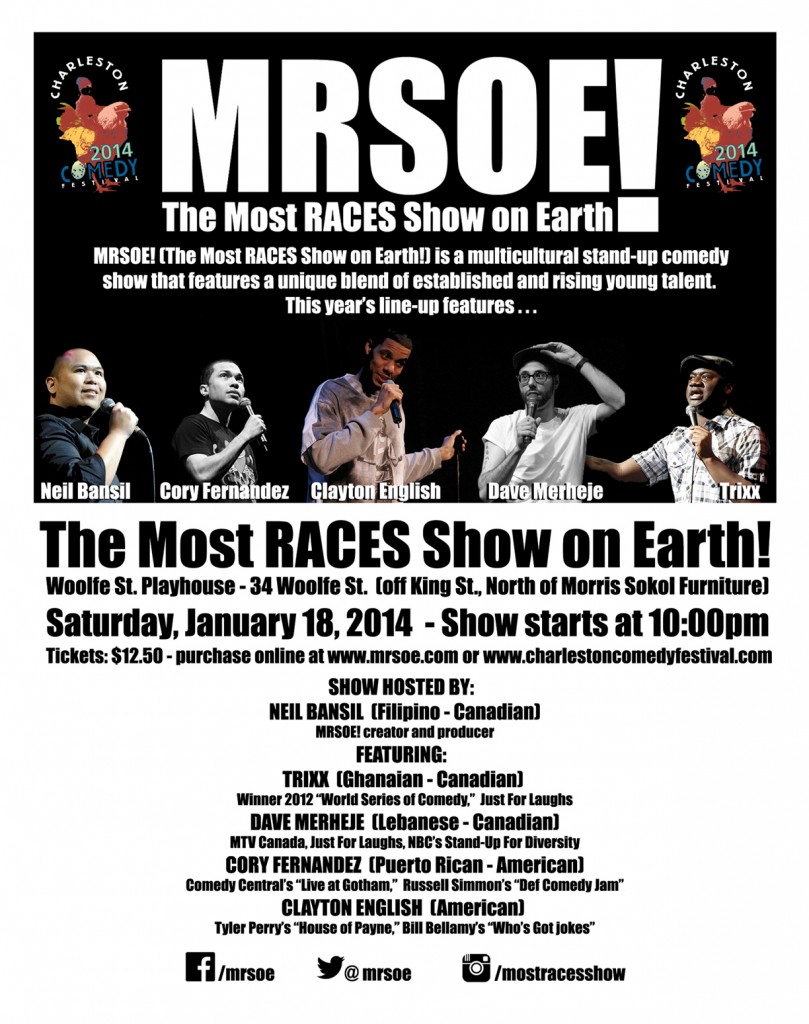 Along with being a Realtor I am also the creator/producer of an international comedy tour called MRSOE!, the acronym for "The Most RACES Show on Earth!".
MRSOE! is a multicultural stand-up comedy show that features a unique blend of established and rising young talent of different ethnicities, cultures, religions, and sexual orientations. We put this show together to show that FUNNY IS FUNNY no matter what culture, creed or color you are.
Each comedian featured on the show delivers the NO-HOLDS-BARRED material of their choice, and while not every joke is about race, each comedian will showcase their best material offering a FAST-PACED show of filler-free comedy.
I am proud to say that this will be the third year MRSOE! has performed at The Charleston Comedy Festival with previously sold out performances in 2012 and 2013 at The American Theater. This year we're bringing our show further up King to the brand new Woolfe Street Playhouse! Find out for yourself why this show has become a festival favorite year after year!
Performing at MRSOE! will be one of the best lineups we have ever assembled!:
Name: Cory Fernandez
Nationality: Puerto Rican/American (New York City) – Comedy Central's Live at Gotham, Russell Simmon's Def Comedy Jam
Name: Dave Merheje
Nationality: Lebanese/Canadian (Toronto) – MTV Live Canada, NBC's Stand-Up for Diversity, Just for Laughs Montreal
Name: Trixx
Nationality: Ghanaian/Canadian (Toronto)
Much Music – Canada, 2012 Winner World Series of Comedy – Las Vegas)
Name: Clayton English
Nationality: American (Atlanta) – Tyler Perry's House of Payne, BET's Hell Date and TV ONE's Bill Bellamy's Who's Got Jokes?
HOST:
Name: Neil Bansil
Nationality: Filipino/Canadian/American (Charleston)
Creator and producer of "MRSOE! – The Most RACES Show on Earth!"
Tickets are only $10 until December 25, after it's $12.50. Get your tickets at the Charleston Comedy Festival website here.