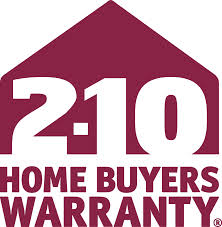 2-10 Home Buyers Warranty Explained
What is a 2-10 Home Buyer Warranty?
Typically referred to as a 2-10 Builders Warranty, this is essentially an insurance-backed new construction warranty that is approved by the Department of Housing and Urban Development (HUD). It warranties that your home will be covered for 10 years from any structural defects, 1 year for any workmanship issues as well as 2 years of system coverage (I will go more in depth later). All of those coverages combine to give new homeowners "piece of mind" when purchasing a new home!
Let's face it, the last thing you want when moving into a new home is immediately having plumbing problems or a foundation crack. The 2-10 Home Buyers Warranty is protection that those items will be taken care of if they should arise.
1-Year Workmanship Warranty
This warranty starts on the day that you close on your home.  It protects a home from defects in materials and workmanship for 1 year.  Examples of items covered under this warranty:
a) Windows and doors: proper fit and smooth operation, weatherstripping, glass, screens, etc.
b) Foundation & Concrete: basement and foundation walls, garage floors, stoops and steps.
c) Electrical: protects you in regards to proper operation of the home's electrical outlets and switches.
2-Year Systems Warranty
This warranty also begins on the day that you close on your home.  It protects the home from defects in plumbing, electrical and mechanical issues for 2 years.  Some of the covered items are:
a) Waste Piping: covers repairs to sanitary sewers.  Repairs to waste and drain lines.
b) Plumbing: water flowing in and out of the home, ie. vent and water pipe leaks and bursts; heating and air conditioning refrigerant line leaks.
c) Electrical System (Wiring): wiring and electrical conductors.
10-Year Structural Warranty
Provides 10 years of structural defect coverage to begin on your closing date.  Structural defects are defined as physical damage to a home's designated load-bearing elements caused by failure that affects their load-bearing function to the extent that the home becomes unsafe, unsanitary or unlivable.  Here are items covered under this warranty:
a) Roof Framing System
b) Floor Framing
c) Load Bearing Walls and Partitions
d) Footings and Foundation Systems
To get a full explanation of the 2-10 Home Buyer's Warranty, please visit the 2-10 website.  If your new home builder does not offer you a similar warranty program then ask them "why?".