Wild Game Dinner @ The Barbeque Joint
If you have ever read "Lord of the Flies" and wondered what Wild Boar tastes like, then wonder no more, because The Barbeque Joint is ringing in the New Year with their 2nd ever Wild Game Dinner!
This dining experience will feature 3 courses with such wild game favorites as Quail, Venison & the aforementioned Wild Boar! Chef Jimmy Owens will be preparing the meals and it will include sides and desserts. Holy City Beers will be served and paired with each of the dishes. Each beer has been carefully selected and approved by the folks at Holy City and Chef Owens, so you know everything will taste just right.
Check out the menu: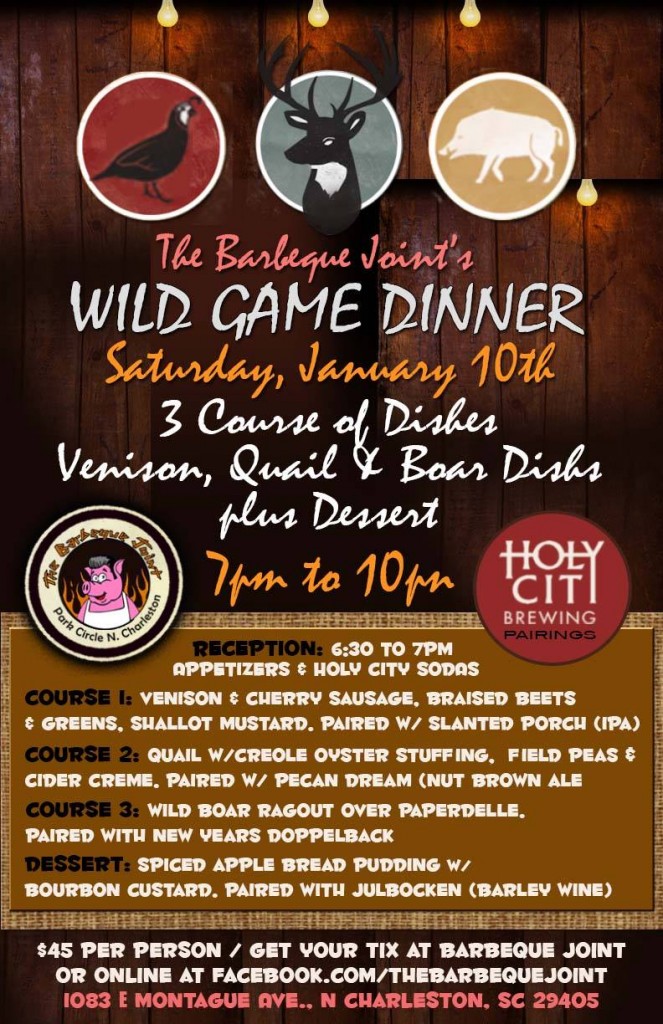 Tickets for this event are $45 and you can get them by either stopping by the restaurant in person or by calling (843) 747-4567. You can also reserve your spot by emailing The Barbeque Joint at thebarbequejoint@gmail.com. It all happens on Saturday, January 10, 2015. Reception at 6:30pm and dinner service starting at 7pm. Be there!