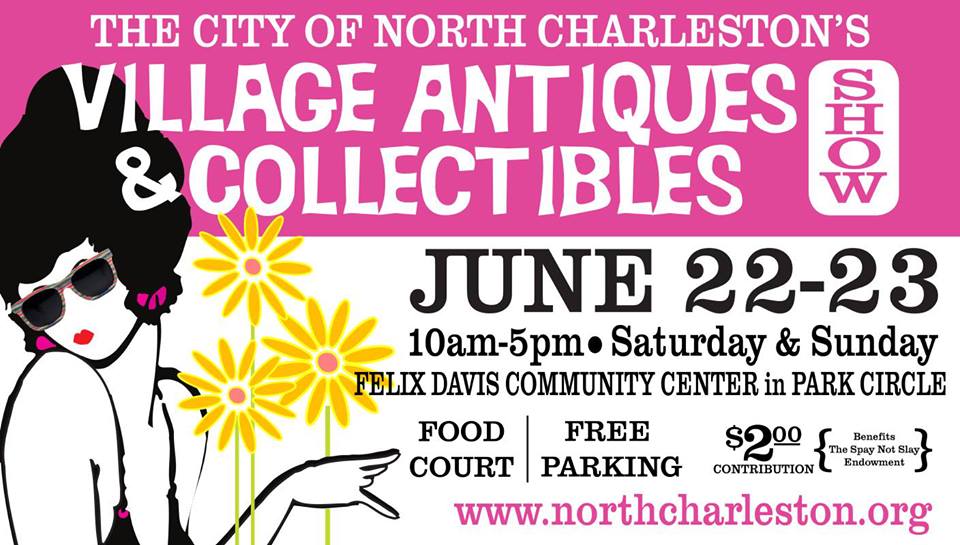 Village Antiques and Collectibles Show
Have you ever caught yourself watching the Antiques Roadshow on PBS?  If so, then this upcoming event is just as exciting!  The City of North Charleston is hosting a Village Antiques and Collectibles Show at the Felix C. Davis Community Center in Park Circle! The event takes place on Saturday, June 22 to Sunday, June 23 from 10:00am to 5:00pm each day. There will be free parking and a food court!
There will be plenty to see including home decor, fine antiques, furniture, collectibles, antique guns, art, jewelry, rugs, crafts, vintage toys & games, silver, pottery, china, silver, salvage items, outdoor decor, vintage instruments, and more.
Admission is $2.00, all of which will be benefits The Spay Not Slay Endowment.
For more information, contact Lisa Reynolds at (843) 740-2531.
If you go, here's what you need to know:
Location: Felix C. Davis Community Center – 4800 Park Cir, North Charleston, SC
Date: Saturday, June 22 & Sunday, June 23, 2013
Time: 10:00am – 5:00pm