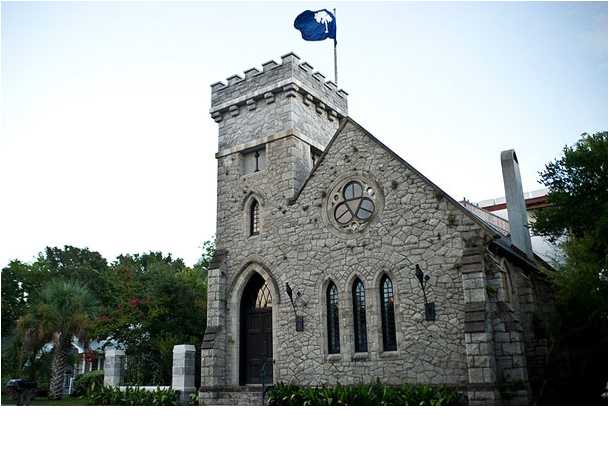 Unique Homes – 1401 Middle St. – Sullivan's Island
Ever wondered what it would be like to live in a Castle?  This might be your best opportunity to live out your dream of being a wizard at Hogwarts.  This unique home sitting in the Live/Work/Play community of Sullivan's Island is available now for the low price of $3.45 Million!  If you have ever visited Fort Moultrie, you probably have seen this castle  situated amongst more conventional homes and wondered what it looks like inside.  Well, now's your chance!  Check out the details about this home below.
Mugdock Castle
Sullivans island, SC
Property Attributes
Basic Property Features:
7 Bedrooms
6.5 Baths
Approximate Square Footages:
4,950 square feet of interior space
1,660 square feet of covered outdoor space
1,180 square feet of rooftop terrace
Lot Size: .32 acres (average 62' wide by 225' deep)
Two buildings connected by a circular stair hall tower
Winter Hall: Gothic-style chapel built in 1891.  Restored in 2003-2004 by skilled artisans hailing from throughout Europe and the Americas
1 Bedroom
1 Baths
Approximate Square Footage: 2,231 square feet
Rooms including ground floor (foyer, kitchen, living room, bathroom); loft; small bedroom; flags and weapons room
Rooftop terrace atop the turret/North Tower (132 sq. ft.)
Solid, exposed granite walls ranging from 20-24" thick
Approximately 27' high ceilings from floor to peak
7' diagonal projection screen that can be electronically lowered from the loft (home theatre)
Windows made of black cypress and hinged in the middle Summer Hall:
Romanesque addition Built in 2008-2009 by skilled artisans hailing from throughout Europe and the Americas
6 Bedrooms
Six built-in beds (two sets of bunks in two of the bedrooms & two queen sized beds in both master suites)
5.5 Baths
Approximate Square Footage:
2,718 square feet
Rooms including 6 bedrooms, 5.5 baths, main public room, covered porches and access to rooftop terrace
Block walls are filled solid with concrete and range from 16 – 32" thick. Inner walls are all wood (pine). Outer walls are plastered utilizing soil from the yard to give the plaster its slight beige tint.
Sits atop a 2' thick solid concrete slab that extends beyond the outer walls a minimum of four feet making the Summer Hall virtually earthquake proof
– 16' ceilings in the main public room|
– Heavy doors and windows custom-made from old white pine
Exterior Features:
Extensive outdoor spaces including:
612 square feet of covered porch on two levels made from weather and insect resistant local cypress, each level with an outdoor shower off each master bath suite
1,048 square feet of covered and finished outdoor space on the ground floor (the "Undercroft")
1,048 square feet of rooftop terrace atop Summer Hall — plumbed and wired for an outdoor kitchen
132 square feet of rooftop terrace atop Winter Hall
Landscaped courtyards on east and south side of the structures
Grove of producing Manzilla and Arbequino olive trees on the ocean-facing south side of the home
Landscape plan with room to add a pool and storage buildings
Adjacent to 30 acres of open space comprised of grassy fields, woods, beaches, and historic fortifications.
Check out other Sullivan's Island Homes for Sale!
[spatialmatch_map id=19 width=100% height=600]