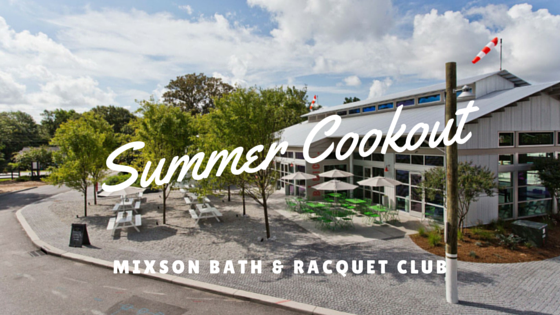 Ultimate Summer Cookout – Mixson Bath & Racquet Club
Chef Bryan Cates, executive chef for Basico and the Mixson Bath & Racquet Club is having a cookout, and he's invited local prominent chefs to join him!
The "Ultimate Summer Cookout" is a cookout with some of the top chefs in the lowcountry. Chef Cates and his guests will be preparing food on grills set up outside of the club and each chef will prepare one dish each for three courses, appetizer, entree, and dessert. The only rules are that the food must be casual, and that it must be something that the chef would cook at home for friends! Each course will have a local, seasonal grilled component.
On Thursday, August 13th, Chef Cates will welcome such notable chefs as Jacques Larson from the Obstinate Daughter and Wild Olive as well as Chef Graham Daily of Peninsula Grill and Chef Russ Moore of Slightly North of Broad to join him in a cookout!
Here is a sample of the mouth watering menu:
Grilled shrimp & lobster rolls, salt baked wreckfish, heritage pork ribs, bratwurst with spicy mustard, chicken sausage with jalapeno blueberry jam, bison sliders with pimento cheese and Heritage Farms bacon, grilled pork and peach kabobs, and plenty of grilled vegetables and sides like pasta salad, grilled tomato gazpacho, grilled tomato/mozz/proscuitto kabobs, grilled banana bread.
Tickets are only $30 for non-MBRC members and $20 for members. Get your tickets here. A portion of each ticket sold will go towards Metanoia's youth leadership program. For more info on that particular program, you can visit pushingforward.org. For more info on joining the Mixson Bath and Racquet Club, visit mixsonbrc.com.