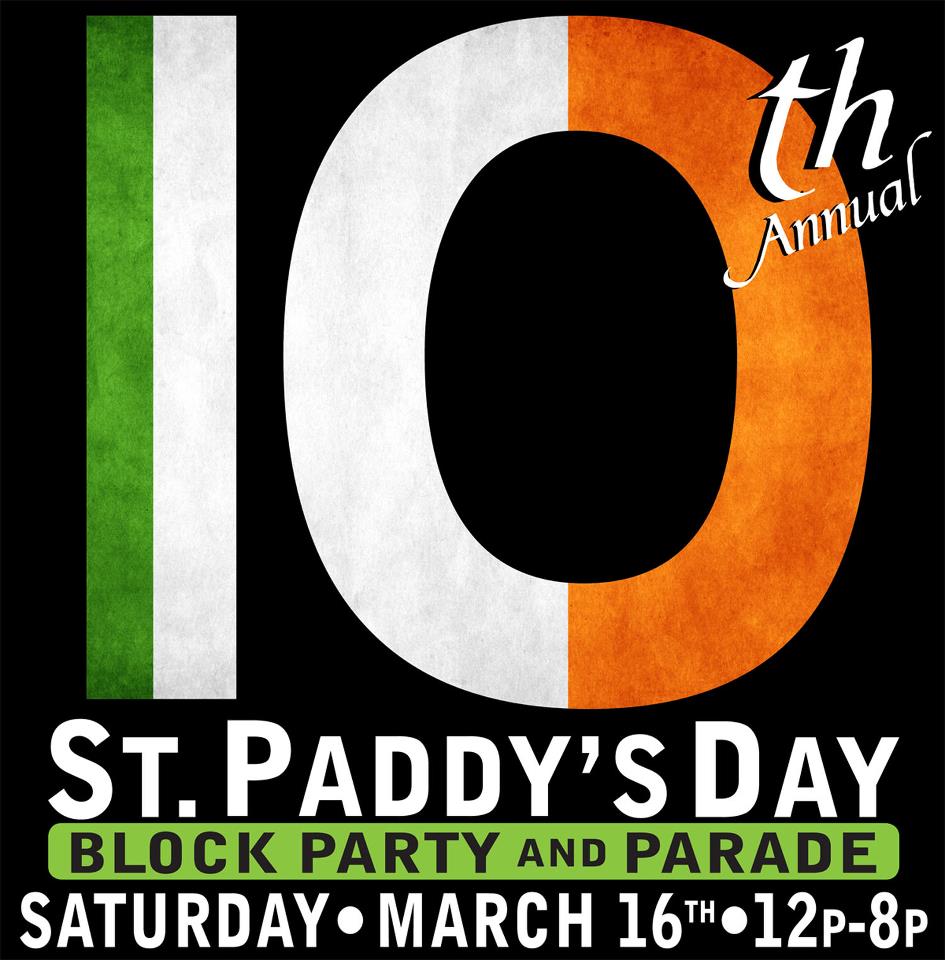 It's that time of year again!  The St. Patrick's Day Parade is coming back to Park Circle for a 10th consecutive year!  On Saturday, March 16th from 12pm-8pm, get ready to drink Green Beer, see a ton of "Kiss me, I'm Irish" buttons and party with over 15,000 people dressed up in their best green outfits.  The St.Patrick's Day Parade will also include a block party to celebrate the Madra Rua Irish Pub's 10th birthday.  Madra Rua first opened their doors on East Montague, March 3, 2003 and they have been helping celebrate St. Patrick's day ever since.  Madra Rua turning ten is a big deal because they were the early pioneers of the Park Circle revival and helped persuade other restaurants and bars to make Park Circle their home.  Nowadays, if you walk East Montague at night you will find restaurants and bars packed with locals enjoying a night out close to home.
The St. Patrick's Day Parade and Block Party will feature fun for the whole family, including jump castles, artists and live music.  Watch for bands playing all day on three different stages including a headlining performance by last years favorite WADATA!  Last year over 15,000 people attended the parade and this year they are anticipating attracting an even larger crowd.  Food options will be plentiful with local restaurants opening their doors, as well as some food trucks stopping by, including Diggity Doughnuts who will be offering a special St. Patrick's Day menu of Banoffee pie, Bailey's & coffee, chocolate Guinness, and a grasshopper cookie.
If you go, here's what you need to know:
St. Patrick's Day Parade and Block Party
Date: March 16, 2013
Time: 12pm – 8pm
Parade begins at noon
Cost: Parking and Festival are FREE!
Age Requirement: Must be 21 and show State ID to get a wristband to purchase alcohol.
UPDATE: 03/11/13
The celebration will feature live music across three stages, bagpipe music, a mechanical bull, food vendors & trucks, corned beef and cabbage, Irish trivia, a Kids Zone with jump castles, face painting, local artisans, and much more and all this is brought to by City of North Charleston!
East Montague Avenue will close from Park Place East to OHear Avenue at 11:30 AM and stay closed for the duration of the parade. East Montague will close between Virginia Avenue and Jenkins Avenue at 9:30 AM for set up and remain closed for the duration of the block party.
Live Music on two stages: Live music line-up includes: Karl Byrne, Customs Four & Friends, The V-Tones, Folkgrass, Sean Austin Leonard, Michael Wolk, Don Merckle & The Blacksmiths, The Three Dudes, Maya Morill, Lizzy Pitch and WADATA.