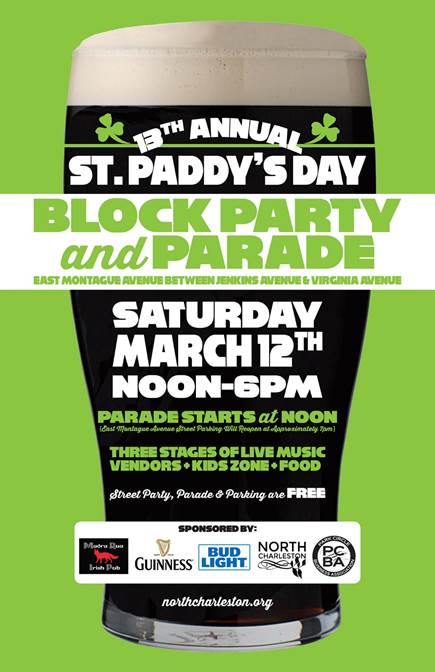 13th Annual St. Paddy's Day Block Party and Parade 2016
The City of North Charleston is gearing up for one of the biggest events of the year! The 2016 edition of the super popular St. Paddy's Day Block Party and Parade is almost here. On Saturday, March 12th from 12p to 6p it will be all green everything along E Montague in the Olde Village as the biggest St. Patrick's Day celebration in the Lowcountry comes to town. The day begins with a traditional parade starting at noon at Park Place East (adjacent to East Montague Avenue and across from Park Circle Community Center). The parade will move along East Montague to Virginia Avenue. As a result, East Montague will be closed between Virginia Ave. and Jenkins Ave starting at 9am, and will remain closed until 8pm, so it's best to leave the car at home! If you do decide to drive to the event there will be parking in the Circle as well as street parking on either side of E Montague, but again, it is advised to take either public transportation or a cab to the event! Like every year, music will be big component of the event with the following performances already confirmed!
City of North Charleston Cultural Arts Department Stage at kids zone:
1230-130: Mark Schuler acoustic faves
2-3: Patty McKee- irish themed
330-430: John Cusatis- kid-friendly acoustic (fun instruments!)
Palmetto Brewing Stage at The Sparrow:
1230- 2 Don Merckle & The Blacksmiths- Alt Country/rock
230-4 – DUSTIN P. FANNING & The Seconds Out- Indie Rock
4-530: – The Old Metro Tools – Rock!
PLUS- @dj KY rocking all in between and during breaks!
Guiness Stage at Madra Rua Irish Pub – Park Circle:
1230-2: Karyl Byrne Band Acoustic Irish Classics
2-330: Chris Sullivan Acoustic Rock
4-6: AXUS "Official page" – Variety/Rock
I look forward to seeing you there! For more information on this event, check out the City of North Charleston's Facebook event page here.