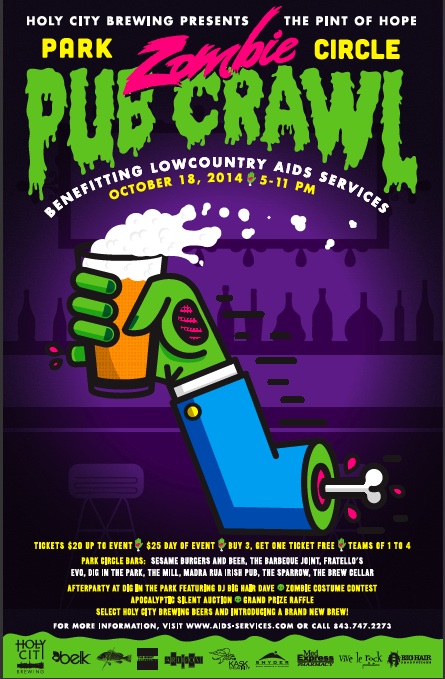 Pint of Hope Zombie Pub Crawl
The fourth annual Pint of Hope Zombie Pub Crawl is coming to Park Circle!  This super fun event always brings out the undead and proceeds will benefit Lowcountry AIDS Services (www.aids-services.com).   The event takes place on October 18, 2014 from 5 to 11pm.
If you've ever been to a Zombie Crawl before, you'll know that dressing in your best zombie costume is a must.  That can mean anything from tattered clothing, tousled hair, maybe a few cuts and bruises and a lot of blood.
Participating bars/restaurants in Park Circle include The BBQ Joint, EVO Pizza, DIG in the Park, The Mill, Madra Rua Irish Pub, The Brew Cellar, Fratello's, Sesame Burgers and Beer and The Sparrow.
To get involved, you can go by yourself, or find up to 3 friends to be Zombies with you and you'll be given a scorecard which is filled whenever you visit one of the participating bars or restaurants. At the end of the evening, teams enter their scorecard for a grand prize drawing.
The Pint of Hope Zombie Pub Crawl is sponsored by Holy City Brewing and they will be creating a special zombie-themed beer for the event!  Join zombies at the end of the pub crawl at DIG in the Park for live music from DJ Big Hair Dave.
Tickets are $20 per person in advance and $25 at the door. Buy three tickets, get one free. For more information and tickets details, visit http://aids-services.com.