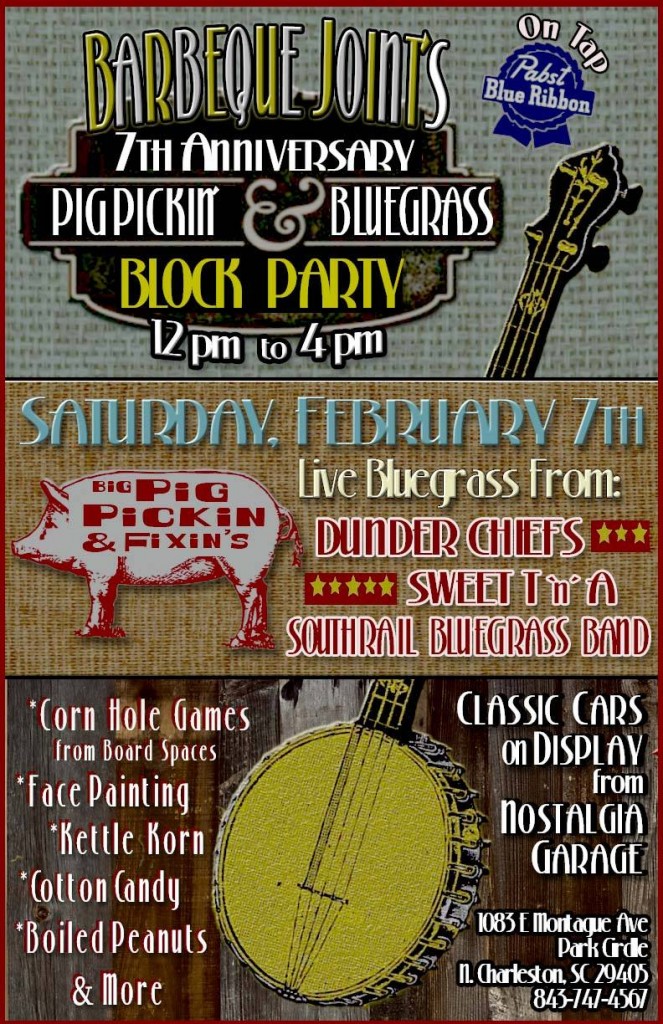 Pig Pickin' and Bluegrass Block Party! – Barbeque Joint's 7th Anniversary!
Who doesn't love a good ol' Pig Pickin' and Bluegrass Block Party? On Saturday, February 7th, 2015 from 12pm to 4pm, the Barbeque Joint invites everyone to join them for some good food, live music and more! The event is FREE to attend and they'll be serving up cold PBR on draft, plus barbecuing whole hogs in their smoker. There will be plenty of activities for the kids as well with face painting, corn hole, and the chance to check out classic cars from Nostalgia Garage. Live bluegrass music will be provided by The Dunder Chiefs, Southrail Bluegrass Band and Sweet T 'n' A. If you're not doing anything on Saturday, then get your pig pickin' hands ready and add this event to your calendar because it's going to be a fun time! There will be plenty of street parking along East Montague just before you reach Jenkins Ave. or you can park along Jenkins Ave.
If you go, here's what you need to know!
The Barbeque Joint
1083-A East Montague Ave.
North Charleston, SC 29405