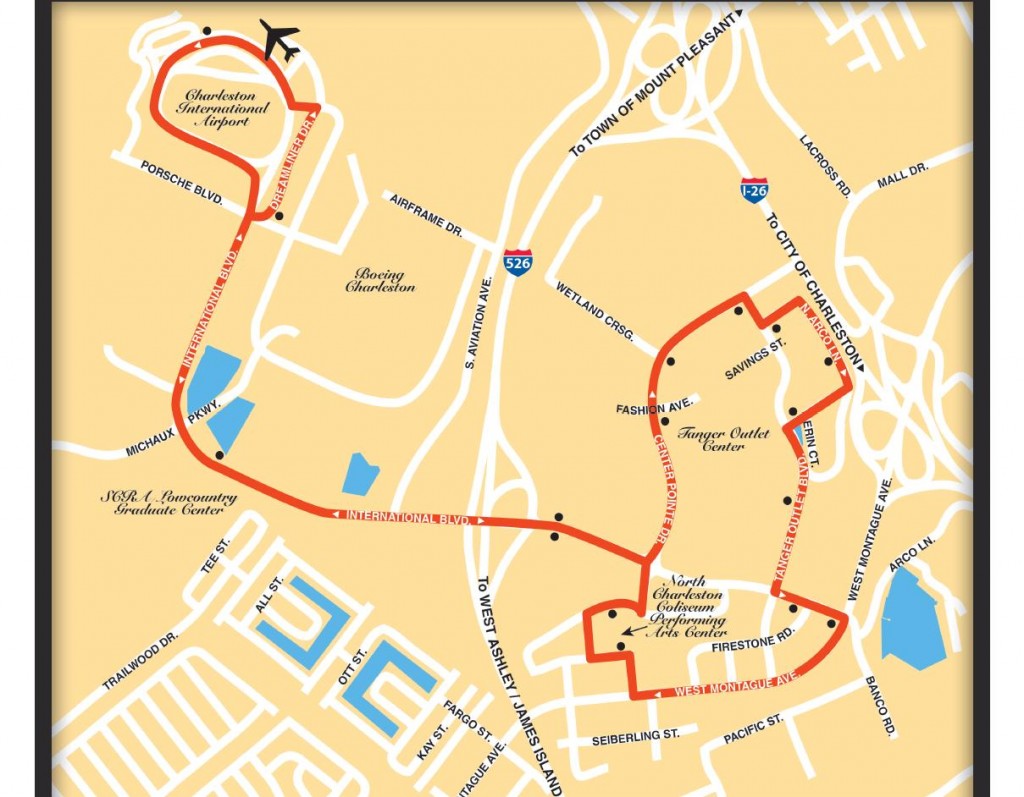 CARTA announces new route – North Charleston Area Shuttle (NASH)
UPDATE – JULY 17, 2014 – Unfortunately, due to low ridership, the Charleston Area Regional Transportation Authority pulled the plug on one of two buses that were working the route, so service will be reduced to one bus running on an hourly service from 8am to midnight.
The Charleston Area Regional Transportation Authority (CARTA) just announced the launch of a new route called the North Charleston Area Shuttle (NASH)! This is an absolutely free service that will link all the restaurants, retail, entertainment venues, hotels and the Charleston International Airport!  There will be 16 stops in total and some of the highlights are stops at Boeing, the Performing Arts Center, and the Tanger Outlets.  If you're a visitor to North Charleston or work in those locations it will now be even easier to get around town!  The best thing about this service is that CARTA will be utilizing Hybrid buses so the impact on the environment will be minimal.
"This shuttle service will provide a more efficient way for visitors and residents to travel in the North Charleston area, and will also provide Boeing South Carolina teammates with an environmentally-friendly way of commuting to and from places of business on the shuttle route, all without adding traffic to the roads,"
– Boeing South Carolina Director of Operations Willy Geary.
To learn more about the new NASH route, visit RideCARTA.com. Learn more about CARTA bus passes and all other routes at RideCARTA.com.  To view the bus schedule see below: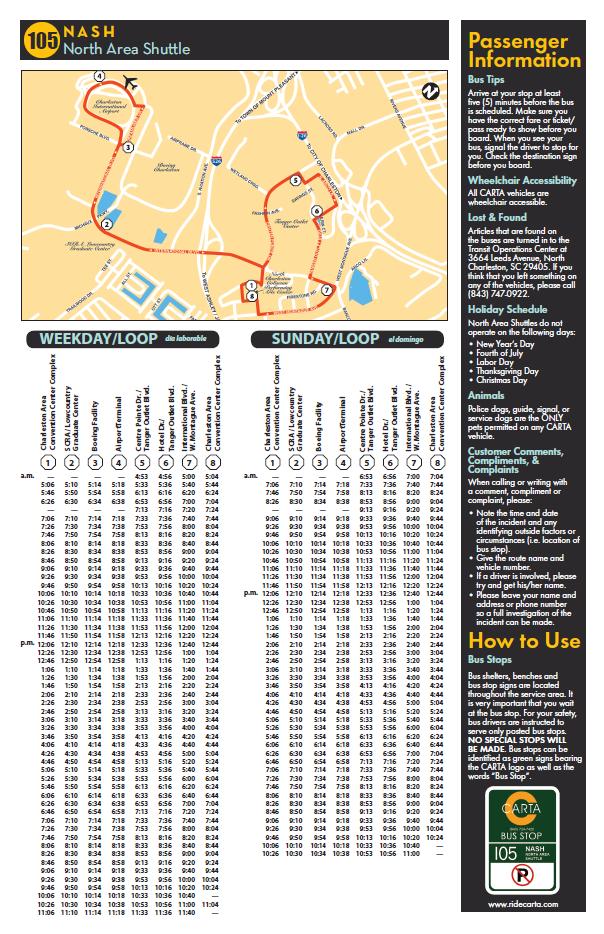 UPDATE: MARCH 26, 2014
Two new routes have just been announced that will make traveling to popular North Charleston destinations easier.
The new routes will offer services to areas such as the Charleston International Airport, Boeing, Tanger Outlets, Park Circle, and many others.
Route 105: NASH Circulator
A free, 16-stop circulator that runs on a looped route near Charleston International Airport and connects Boeing and Tanger Outlets to the Park Circle and Old Village areas of North Charleston
The service runs seven days a week from 11 a.m. to 10:30 p.m., about every 30 minutes.
Route 4: NASH Express
A $3 route similar to other CARTA express services. Stops include Charleston International Airport, North Charleston Visitor Center, Tanger Outlets and the Charleston Visitor Center downtown.
Service frequency is about an hour, which means a trip from the airport to downtown – or vice versa – takes approximately 30 minutes.