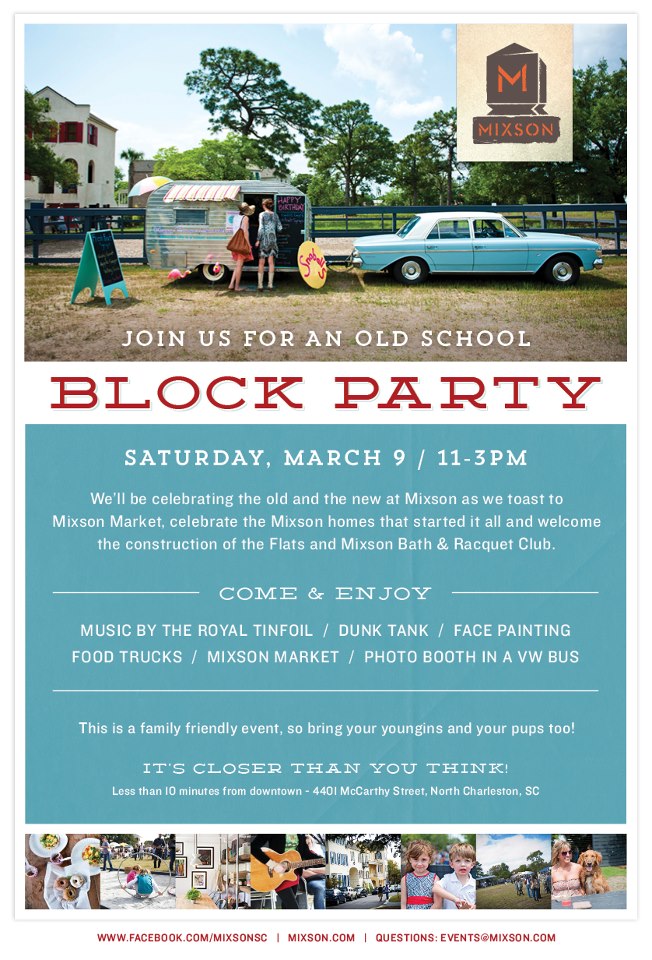 The Mixson Block Party is almost here!  On Saturday, March 9th, from 11am to 3pm you will have the opportunity to listen to live music from The Royal Tinfoil,  get dunked in a dunk tank, eat food from a food truck and get your photo taken in a VW bus, so get your kids, your dog, your bike and yourself over to 4401 McCarthy St. in North Charleston!
The Mixson Block Party will be a celebration centered around all the new and exciting developments happening in this unique community.  As you munch on food truck fare you can learn more about the currently under construction Mixson Bath and Racquet Club or you can review the plans for "the Flats", which is the next phase of  multi-family dwellings in the neighborhood.  Make sure to also take time to walk around the existing Mixson homes and stop by the Mixson Market to see all of its cool offerings.  Park Circle is the place to be this weekend!
I'll be walking to the event with some neighbors from the Oak Terrace Preserve neighborhood which is less than 5 minutes away so come on out and have some fun!
If you go here's what you need to know:
Mixson Block Party
Date: Saturday, March 9, 2013
Time: 11am – 3pm
Place: 4401 McCarthy St. North Charleston, SC
For more info visit: www.facebook.com/mixsonsc or email events@mixson.com