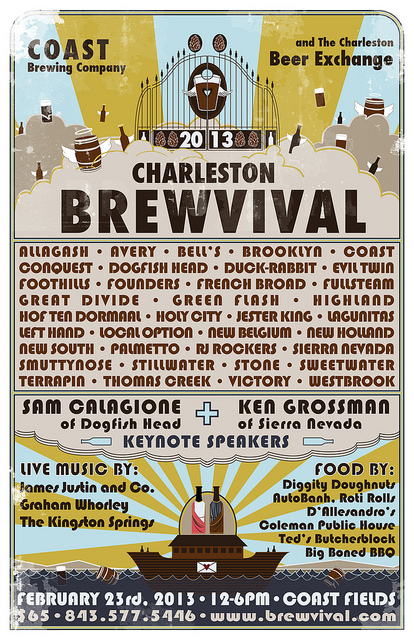 Update: Brewvival Tickets are now SOLD OUT!!! – You're only chance is to buy some tickets off someone on Craigslist, or grovel to someone who knows someone who has tickets.
The 3rd annual Brewvival is only 10 days away!  For those of you who are new to Brewvival, it is basically a Beer lovers paradise.  Coast Brewery and the Charleston Beer Exchange have put together this shindig and for the low price of $65 you can have the ability to sample every craft beer on-site.  The price of the ticket also includes live music, and the option of purchasing food from many of the best food trucks Charleston has to offer.  The event will be located at Coast Fields which is across from Coast Brewery in North Charleston.  Some of my personal favorite brewers will be on hand, including Allagash Brewing Company, Bell's and Brooklyn Brewery, not to mention local love for Coast, Holy City and Palmetto Brewing Company.  Beer can be filling, but make sure to save room for food truck fare including Roti Rolls (Get the Funky Farmer, trust me.) and dessert from Diggity Doughnuts.  Remember to bring your portable chairs, some bottled water, and a designated driver!  Getting there is easy, just check the map below for the location!
[srpmap lat="32.873576″ lng="-79.972116″]
, SC 29405
[/srpmap]
If you go, here's what you need to know!
Brewvival
Date: Saturday, February 23, 2013
Time: 12pm-6pm
Location: 1250 2nd St. North Charleston, 29405
21+ Event!
for more info visit: www.brewvival.com