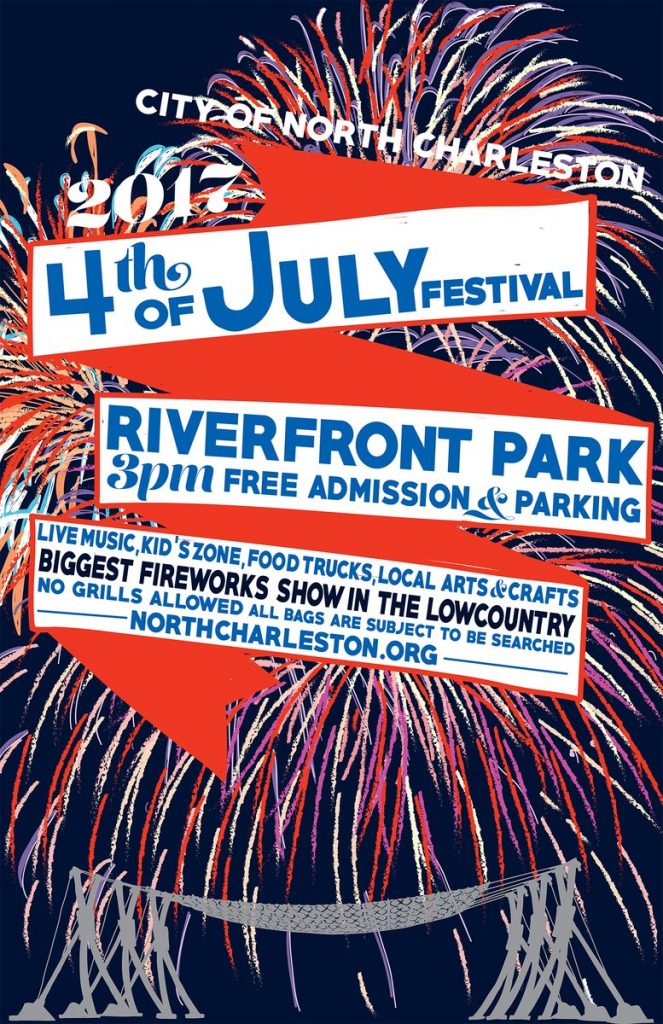 4th of July Festival at Riverfront Park
The Lowcountry's largest 4th of July fireworks show is back at Riverfront Park in North Charleston. Brought to you by The City of North Charleston, this epic 4th of July celebration will feature everything from food trucks, craft vendors, children's activities and amazing live music, including an appearance from DJ Natty Heavy!
Plan on getting there early as festivities start at 3:00pm and go until 9:45pm. There will be plenty of parking and admission is free. The earlier you get there the better so you can stake out that perfect spot to set up some lawn chairs or blankets to get the best view of the fireworks display.
Park Circle residents are lucky enough to be able to walk or bike to the event, but if you insist on driving, you will find attendants directing you to parking spaces and then it's just a short shuttle bus ride to the park entrance.
A few things to remember (directly from the City of North Charleston event page)
• NO entry into the park until 3:00 pm
• All entry through the front gates off of Everglades Avenue
• All bags will be searched
• NO grills allowed in the park during the festival
• Coolers are allowed, but they are subject to search.
Festival performers
• 3:00 – Gates open – DJ Natty Heavy
• 3:30 – Jump Castle Riot
• 4:30 – DJ Natty Heavy
• 5:00 – Lauren Hall Band
• 6:30 – DJ Natty Heavy
• 7:00 – Black Diamond Band
• 9:10 – Spectacular Fireworks show by Zambelli's to live music
Participating Food Trucks and Vendors
• Ben & Jerry's
• Box Car Betty's
• Brieles
• Charleston Creole
• Chucktown Mobile Seafood
• Charleston Festival Food
• Dave-N-Dubs Hot Dogs
• Holy City Italian Ice
• Holy City Popcorn
• King of Pops
• Just Lemonade
• Miracles Tasty Express
• Natalie's Orchid Juice Company
• Pacific Sun Shave
• Peanut Tyme
• Sunset Slush
• The Kickin Chicken
• Zeus