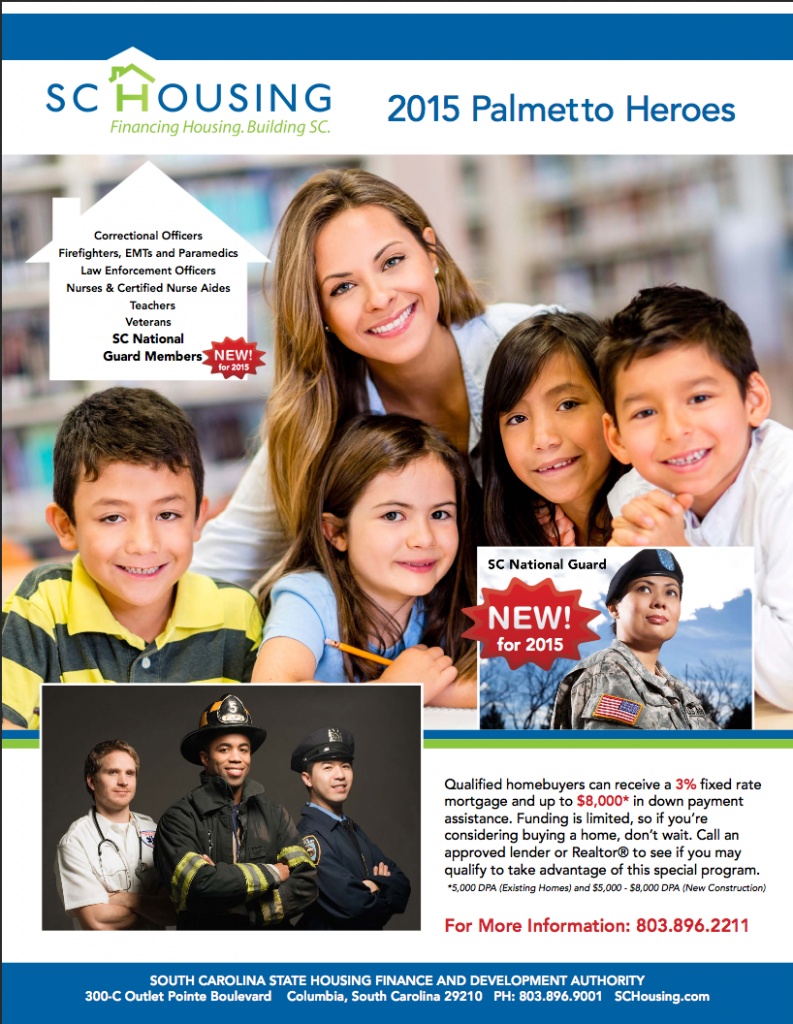 2015 Palmetto Heroes Program
*UPDATE: As of June 23, 2015 Funds have been exhausted.  Please stay tuned for the return of this program in 2016!
The SC State Housing Palmetto Heroes Program is back again for 2015 and it's better than ever!  The Palmetto Heroes program is one of the most popular first-time home buyer programs in South Carolina.  In 2014, funds for this program ran out by mid July, so if you are employed in one of the following professions and are currently looking to purchase a home, then contact me today!
This Year our Palmetto Heroes include:
•   Law Enforcement Officers
•   Correctional Officers
•   Teachers
•   Nurses and Certified Nursing Assistants
•   Firefighters
•   Veterans
•   Emergency Medical Services Personnel
•   And new for 2015: SC National Guard (Active members; Army or Air.)
The 2015 Palmetto Heroes Program offers buyers in the above mentioned professions the ability to purchase a home with a:
• 3% interest rate
• up to $8000 down payment assistance ($5000 on an existing home/$8,000 on a newly constructed home.)

The process is simple to utilize this program.  If you are a first time home buyer and you are employed in one of the qualified occupations, then the first step is getting pre-approved for a mortgage through one of the affiliated lending partners that work with SC Housing (Here is a link to the page that lists lenders by area).  Let the lender know that you are interested in using the Palmetto Heroes program.  Once you are qualified, then it is time to contact a Realtor, (like me!) to help you find your new home!  Once we find your home, make an offer, and it is accepted, we will then turn the contract over to your lender to get started with the application for the Palmetto Heroes program!  It's that simple!
For the full run down of this program here is a PDF outlining the details of the 2015 Palmetto Heroes Program.
For more information, contact me today! Call (843)714-3855 or email me at: neil.bansil@carolinaelitere.com