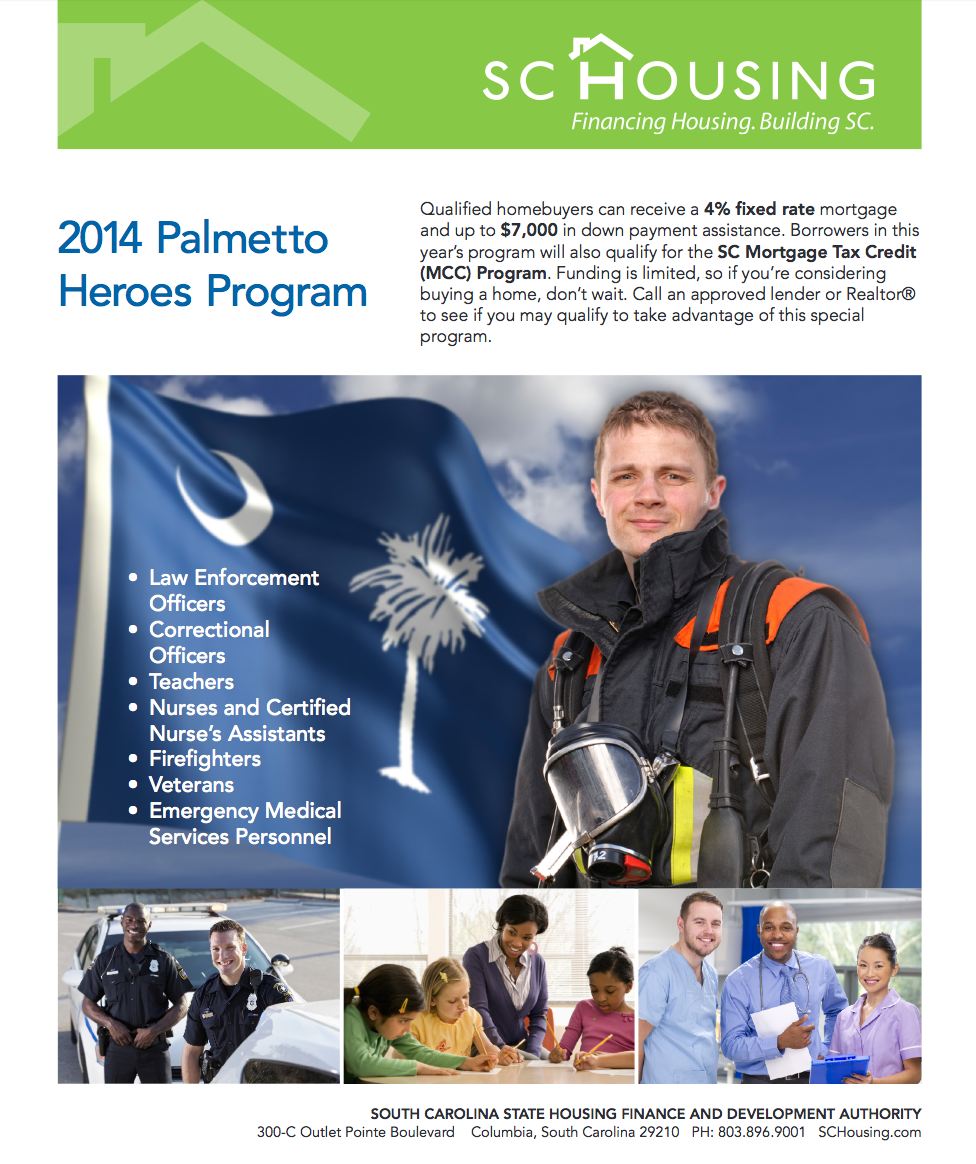 2014 Palmetto Heroes Program – UPDATE: Funds are no longer available for 2014, but the program will return by mid-April 2015!  SC Housing still offers $5,000 in Down Payment Assistance for First Time Home Buyers – Click here for info.
Palmetto Heroes for 2014 is better than ever!
The SC State Housing Palmetto Heroes Program is back again for 2014.  Last year, funds for this program ran out by July, so if you are employed in one of the following professions and are currently looking to purchase a home, then contact me today!
• Law Enforcement Officers
• Correctional Officers
• Teachers
• Nurses and Certified Nursing Assistants
• Firefighters
• Veterans
• Emergency Medical Services Personnel
The 2014 Palmetto Heroes Program offers buyers in the above mentioned professions the ability to purchase a home with a:
• 4% interest rate
• $7000 down payment assistance and
• South Carolina Mortgage Credit Certificate (MCC)*
*The SC Mortgage Tax Credit also known as a Mortgage Credit Certificate (MCC) is a certificate that allows a homebuyer to take a federal income tax credit for a portion of the annual interest they pay on their mortgage loan. The MCC allows eligible borrowers to take a dollar for dollar federal tax credit of 30% of the mortgage interest they pay annually. It can save a borrower up to $2,000 each year they occupy the home. The remaining 70% of the mortgage interest can still be deducted from their annual income on their tax return. The MCC can be taken each year for the life the loan as long it is their primary residence. A borrower can never deduct more than their actual tax liability after other deductions.
Here is a handy sheet that outlines this program as there are income limits to pay attention to as well as a more detailed breakdown of the occupations eligible for this program: More information
For more information, contact me today! Call (843)714-3855 or email me at: neil.bansil@carolinaelitere.com