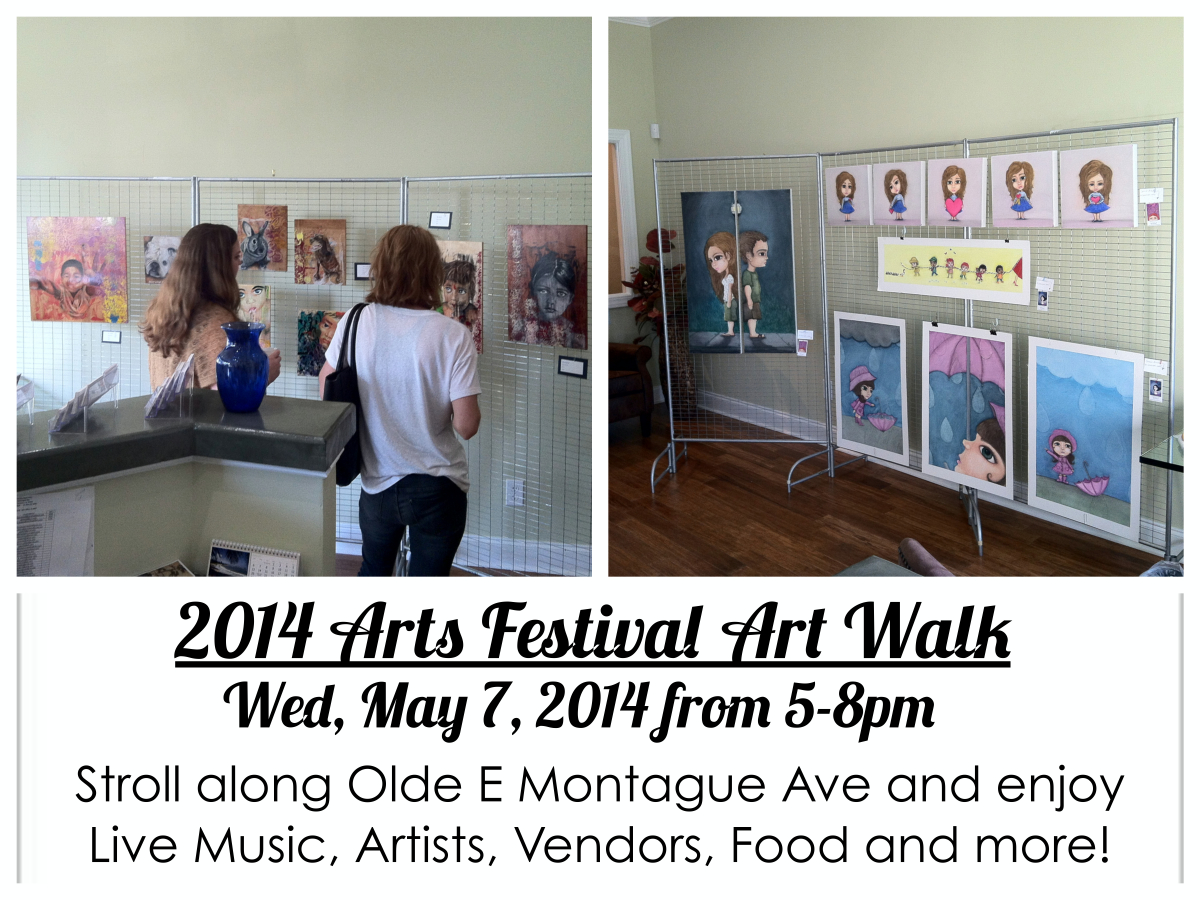 2014 Arts Festival Art Walk
The 2014 Arts Festival Art Walk is quickly approaching and rain or shine it's going to be a great evening of art and culture for all! Last year my office (Carolina Elite Real Estate – 1081 E Montague Ave.) opened its doors to two artists who were able to display their art for all to see (see photos above). This year we are happy to invite two more artists (one, who just so happens to by my wife – Megan Collier-Bansil and another rising artist Brandi Hilton), who will be offering art for viewing and for sale!
The Art Walk is one of the best events of the Arts Festival as it brings so many people to the Olde North Charleston Village to stroll, enjoy a beverage, and visit one of the many new local businesses that have moved into the area. Many of the businesses, like ours, will feature art and crafts by local artists representing a variety of different styles and mediums.
Live music will also be featured during the art walk with performances by Charlotte based Sulkes Band, Neo-Soul artist Faith Lyn, as well as a rockabilly/bluegrass duo, Battlefield Collective.
There will be so much to do, see, and hear, so make sure you mark your calendar for Wednesday, May 7, 2014! For more information on the event, visit the Art Walk Facebook Event page here.
The following business will have Art on display, so make sure you stop in for a visit!
Cannon Bar & Kitchen, Carolina Elite Real Estate, The Charleston Mattress, DIG in the Park, Half-Moon Outfitters Annex, Madra Rua Irish Pub – Park Circle, park pizza co., ReFORM Studios Personal Training, South of Broadway Theater, The Barbeque Joint, The Mill, The Orange Spot Coffeehouse, and more.
Do you want to live in Park Circle? Check out all the homes for sale below:
[spatialmatch_map id=2 width=100% height=600]