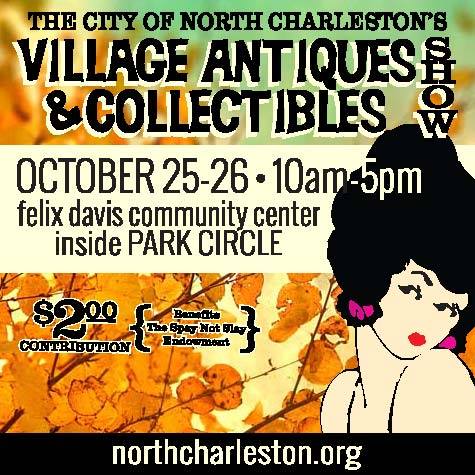 Village Antiques and Collectibles Show
The City of North Charleston is having their annual Park Circle Village Antiques and Collectibles Show! They invite you to stop by the Felix C. Davis Community Center on either October 25 or 26th from 10am to 5pm to shop, browse, eat, and mingle!
The Show will feature everything you would expect from an antiques and collectibles show, including home decor, fine antiques, furniture, collectibles, antique guns, art, jewelry, and more.
Admission to this event is only $2.00, and will benefit The "Spay Not Slay Endowment".
If you would like to participate as a vendor, contact Lisa Reynolds at (843)740-2531 or via email at: lreynolds@northcharleston.org
Dealer/Vendor space is still available. A 10'x10' space rents for $65.00 with 6' tables available for $7.00 each.
If you're planning to attend as a guest or as a vendor, remember parking is FREE and there will be food court set up so you won't go hungry!
Felix C. Davis Community Center
4800 Park Circle
(843) 745-1028