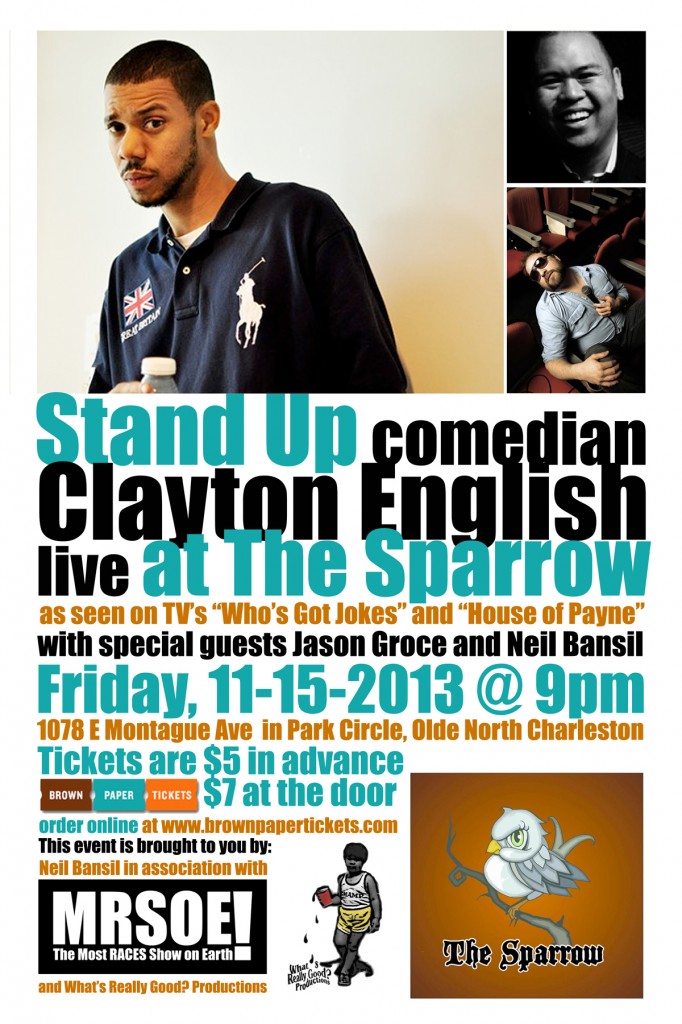 Stand-Up at The Sparrow – 5 Things You Need to Know
1) Why did you choose Park Circle to do this comedy show?
Park Circle is my home and it's always going to be.  I've lived in a couple of major cities (Toronto and Atlanta), but there's just something about Park Circle that makes it feel like home.  Whenever people ask me about Park Circle, I describe it in two words, "Cool" and "Creative".  I think it's what attracted my wife and me to the neighborhood.  Being from Toronto, which is one of the most diverse cities in the world, I wanted to live in a neighborhood that encouraged diversity and culture and supported the arts.  When I look at Park Circle, I see a town that's on the verge of being the creative hub of Charleston and a destination for all artists.  I see a place where my wife and I can call home, settle down, be inspired, and grow old in.  So, why again, am I bringing a comedy show to Park Circle?  Because it's my home.  It's the place where I want to show off what I do best.  I've been producing sold out comedy shows all over North America, in Toronto, Ottawa, Buffalo, Atlanta, and Charleston since 2005 and now I want to bring a little bit of that to Park Circle.  I just want to make Park Circle laugh and contribute to the community that I live in.
2) Who is Clayton English?
Clayton English is the first comedian I have chosen to headline the first "Stand-Up at The Sparrow" show.  I chose Clayton simply for the fact that he is FUNNY.  His comedy isn't "black" comedy.  His comedy is "everybody" comedy.  Clayton's material crosses all cultures.  Clayton is one of those guys who is funny no matter who is watching him.  He relates to everyone.  If you do not go see him, you are definitely missing out!  He has performed all over North America and can be seen on TV in a recurring role on Tyler Perry's "House of Payne".  Opening up for Clayton will be Jason Groce, a Charleston comedy favorite.  He is the regular host for one of the longest running open mic nights in Charleston at the Tin Roof, and he's bringing his unique style of comedy to Park Circle.  I'm Neil Bansil, otherwise known as "Real Deal with Neil" in the daytime, a neighborhood Real Estate agent and promoter of all things Park Circle.  I will be hosting and making jokes throughout.  I've been producing and performing comedy for over 10 years and I'm just happy to be able to bring this show to my neighbors and future friends.
3) Why Should You Go?
By going to this show, you're not going to just any "comedy show", you're going to be a part of a select group of people who have realized that you will be part of something bigger.  This show is an extension of a larger show that I produce called, "MRSOE! – The Most RACES Show on Earth!".  MRSOE! features the funniest comedians of all different cultures, creeds, and colors, and the main emphasis of each show is to make audiences realize that we are essentially all the same because we all laugh at the same things.  My goal is to bring everyone together through laughter.  I want people to look around this upcoming Friday at The Sparrow and see people of all different races and cultures enjoying comedy all together in one room.  That's why you should go.  You should also go to support Cami Kind and everyone at The Sparrow for being cool enough to host this event.  Let's pack this place out and have a great time!  You're going to see something amazing.  Don't believe me?  Check out some of the reviews we have gotten after our shows:



4) How many Tickets are Available?
I chose "The Sparrow" to host this comedy show because of how intimate the space is.  Because the venue is so small, we're limiting the ticket availability to only 90 people, so if you haven't gotten your tickets yet, do it NOW!   Tickets are only $5 and are available at Brown Paper Tickets or at the door via Cash or Credit Card.
5)  Where is The Sparrow?
The Sparrow is right off of East Montague in the Olde Business district of Park Circle off Chateau Ave.  (1078 E Montague Ave.) There will be plenty of free street parking so you have no excuse!  The Sparrow is a hidden gem famous for their gourmet hot dogs and cold drinks.  We are proud to bring our comedy to this venue and hope you will come by this Friday, November 15, and have some fun with us!  Show time is 9:00pm, but doors open at 8:00pm.  I hope to see you there!