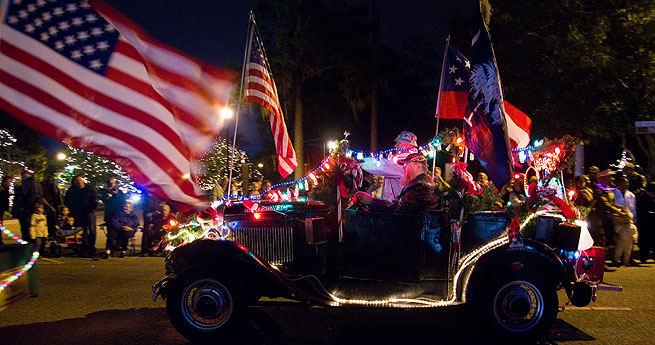 North Charleston Christmas Parade & Festival 2014
It's that time of year again! It's the North Charleston Christmas Parade & Festival!!!  On Saturday, December 6, 2014 from 3:00pm to 9:00pm, join holiday revelers from all over Charleston as they congregate for one of the best parades in Charleston.  You can set up chairs and watch floats ride by along a parade route that stretches from the corner of Montague Ave. and Mixson Ave., travels along Montague and around Park Circle, then concludes at Armory Park. The parade itself doesn't start until 5:00pm, but before then you can enjoy a Holiday Market with children's activities, food vendors and live music!  This event is totally FREE!
Be on the lookout for Mayor R. Keith Summey and Santa Claus as they will light the City's Christmas tree located just outside the front entrance of the Felix C. Davis Community Center.  Find out more about this event by clicking here.
Christmas Festival Schedule
3:00 pm – Police will close the Park Circle traffic circle, Montague Avenue from Mixson to the traffic circle, and Mixson and Lackawanna to West Enterprise to vehicular traffic
3:00 – 4:45 pm – Children's activities (jump castles, petting zoo, carriage rides)
4:00 – 5:00pm – Performances (indoor Auditorium stage and outdoor Amphitheater stage)
5:00 – 6:30 pm – Parade, immediately followed by the Christmas tree lighting
6:30 – 9:00 pm – Performances on all stages, children's activities continue, food and craft vendors
9:00 pm – Roads opens to traffic
Performances and Entertainment at Christmas Festival
4:30 – 5:00 pm – Front Lawn Stage – Mayor Tree lighting with Christmas Carols by Jennifer Johnson
5:00 – 6:30 pm – Parade, no performances
6:30 – 7:30 pm – Auditorium Stage – Palmetto Bronze (handbells)
6:30 – 7:30 pm – Amphitheater Stage – Mike Brown & F.O.C.U.S.
7:45 – 8:45 pm – Auditorium Stage – Remnant Productions & Donna Lee Williams
7:45 – 8:45 pm – Amphitheater Stage -Leonard School of Music