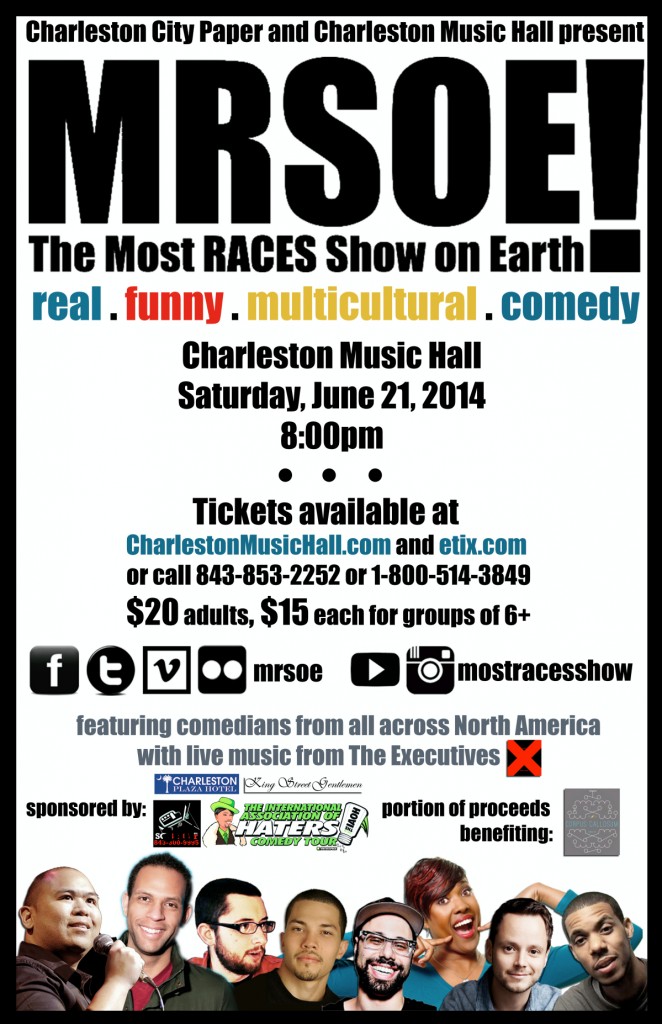 MRSOE – Charleston Music Hall
As some of my clients know and what some future clients are always surprised to hear is that I am a stand-up comedian. Along with helping my clients buy and sell homes, I tell jokes. It's a weird combination, but it works well for me. As you can see from the poster above, that's me in the corner along with some of the funniest comedians in North America. The show is called, "MRSOE!", an acronym for "The Most RACES Show on Earth!" which is a show that I created and have produced since its inception in 2004 in Toronto, Canada. The mission of the show back then, as it is today, is to bring comedians together from all different backgrounds together on one stage with the hope that the audience would reflect the diversity on the stage. We wanted to bring people together of all cultures, religions, and colors in one place and have them all laugh together.  In the years leading up to MRSOE at the Charleston Music Hall, we have been able to accomplish our goal in every city, and that is why I wanted to do the show in Charleston. People said that I was crazy for trying to bring this show here, but I beg to differ. I know that Charleston is one of the most progressive cities in the Southeast and at times it may seem that there is still division between separate cultures, but that is why this show is so important!  I sincerely hope to see everyone there on Saturday and I look forward to making you all laugh, and then possibly sell you a house!
To buy tickets for MRSOE! @ The Charleston Music Hall, click here.
MRSOE – Charleston Music Hall
Place: Charleston Music Hall (37 John St., Charleston, SC)
Date: Saturday, June 21, 2014
Time: Doors open: 7:00pm, Show time: 8:00pm
Tickets: $20 Adults, $15 for groups of 6 or more
For more info, visit: www.mrsoe.com