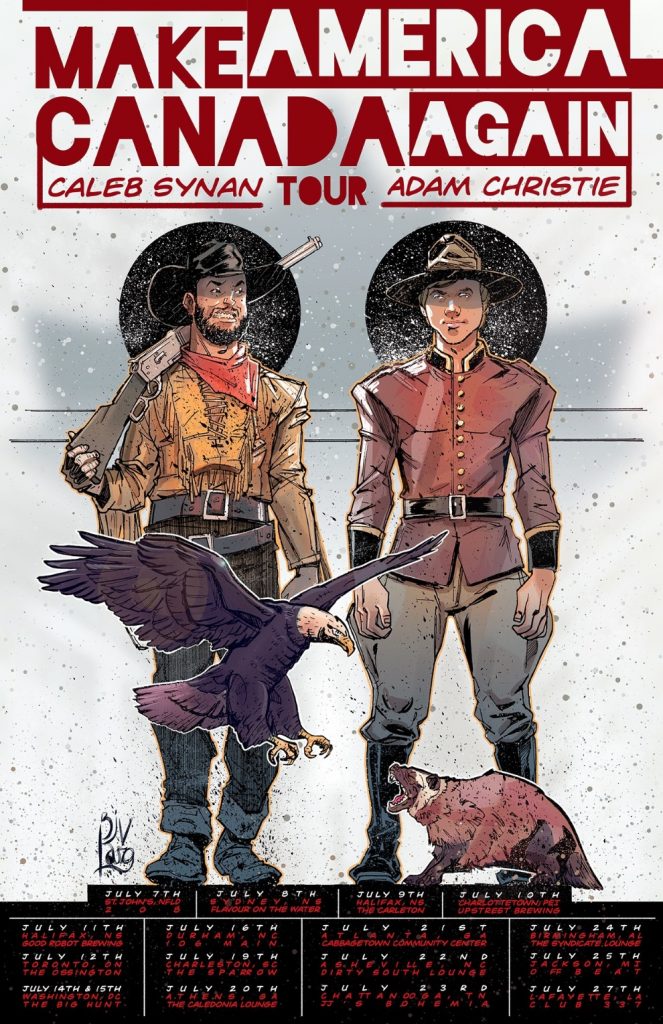 Make America Canada Again Tour
Comedians Caleb Synan (CONAN, Last Comic Standing, Comedy Central) and Adam Christie (CBC, MTV, JFL42) are on tour and on a mission to "Make America Canada Again." They'll be touring cities in Canada and the U.S. and making a stop in Park Circle at The Sparrow! Come see them and bring your dad!
Caleb Synan's breakout performance on CONAN was praised as "One of the Top 5 Late Night Debut's of 2015" by TheLaughButton.com. Though his parents remain skeptical of his profession, he is a comedic force to be reckoned with – headlining clubs across the country and at home in LA! He continues to stay fake humble about his talents, even though his deceptively smart blend of Southern charm and razor sharp wit has earned him appearances on Last Comic Standing, Montreal's Just for Laughs Festival, and the title of "Wittiest" in Franklin County High School's 2009 Yearbook. He did not write this bio himself, either. He swears. But he did write and star in his own web-series for Comedy Central entitled "Deadliest Chef." And in 2016 he performed stand up on Hulu's Coming to the Stage, Fuse TV's Uproarious, and on a tour for the US troops in South Korea and Japan! And he'll have a margarita with you if you play your cards right!
Adam Christie is an award-winning writer and stand-up comedian originally from Toronto, Canada. He's written on four seasons of the hit Canadian satire show 'This Hour Has 22 Minutes', and has been featured on CBC, MTV, North-By-Northeast Music Fest, JFL 42, Much Music, The Hubcap Comedy Festival, and opened for Jen Kirkman and Eric Andre during the Halifax Pop Explosion.
Tickets are $10 and available via Eventbrite.
You can also purchase tickets at the door via cash or credit.
The Sparrow is located at: 1078 E Montague Ave. North Charleston, SC 29405