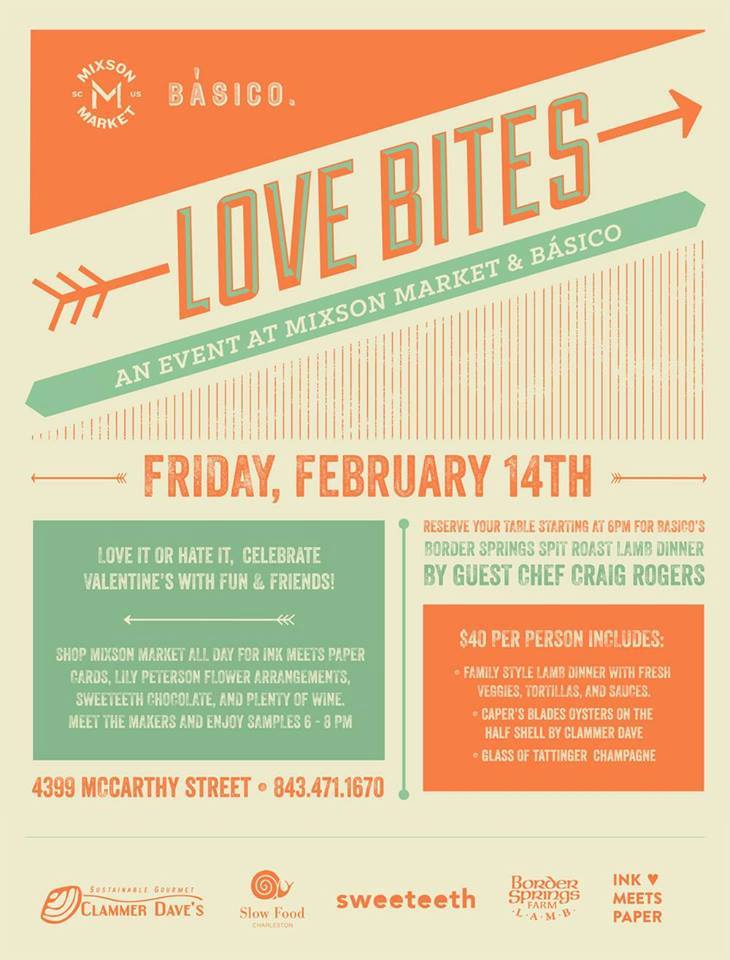 Love Bites – Mixson Market & Basico
Here's a last minute Valentine's Day event that could save your relationship if you haven't made plans yet!  It's not too late to make your reservations for "Love Bites" at Basico.  Love Bites is an event where you can celebrate with your special someone or with just friends if you're not attached.  It all starts with a trip to the Mixson Market between 4 and 6pm so you can pick up a Valentines Day Card from "Ink Meets Paper" as well as a custom flower arrangement by Lily Peterson. If that isn't enough for your friends or your significant other, then make sure to purchase some gourmet chocolate from Sweeteeth Chocolate or a bottle of wine from the market.  Mixson Market will be offering food and drink samples and it's also a chance to meet the makers of the various goodies and products while you're there. Once you've gotten your gifts out of the way you can then enjoy the short walk to Basico and indulge in a Spit Roast Lamb dinner prepared by guest chef Craig Rogers. The cost for the night is only $40 per person, but along with the Lamb you'll also get veggies, tortillas, sauces, Oysters on the Half Shell by Clammer Dave's and a glass of Tattinger Champagne. Call Basico right now at 843.471.1670 before they completely run out of reservations!
Want to Live Near Mixson? Check out these homes nearby!
[spatialmatch_map id=2 width=100% height=600]