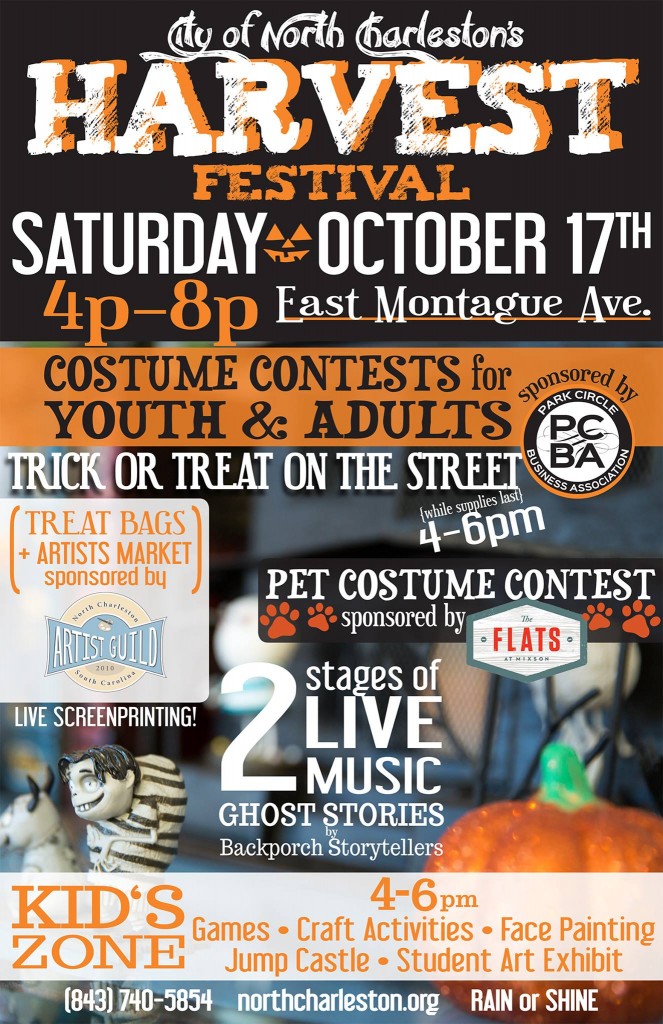 City of North Charleston's Harvest Festival 2015
The 3rd annual Harvest Festival is taking place on Saturday, October 17th and you're all invited!  This growing festival seems to be getting bigger and bigger each year and this year is no exception.  Adults and children are encouraged to come dressed in their Halloween costumes as there will be a costume contest sponsored by the Park Circle Business Association.  Don't forget to get your pet dressed up this year as well because the Flats at Mixson will be sponsoring the "Purrrrfect pet costume contest!".
There will be plenty of things to do for both adults and kids, including an artist market, ghost stories from the Backporch Storytellers, Trick or Treat on the street (from 4-6pm) where local businesses open up their doors to hand out candy to the kids!  Treat bags will also be provided to the kids (while supplies last) by the North Charleston Artist Guild, so make sure to get there early!  Make sure to stop by the Carolina Elite Real Estate office as I will be dressed up as a Realtor and I'll be giving away good candy from Costco.
If all that wasn't enough, there will also be a Kid's zone (4-6pm), live screenprinting and two stages of Live Music!  Check out the schedule of performers below:
Main Stage:
Jordan Igoe – 4:00-6:00pm
Side Stage:
Chaquis Maliq – 4:00-5:45pm
Gino Castillo – 6:15-8:00pm
Kids Zone:
Interactive Drum & Dance with Rajeeyah Mujahid – 4:00-6:00pm
If you are planning to go, make sure to remember that East Montague Ave. will be closed from Virginia Ave. to Jenkins Ave.  There will be plenty of street parking along the side streets as well as street parking available!  For more information on this event, visit the Harvest Festival event page on Facebook!