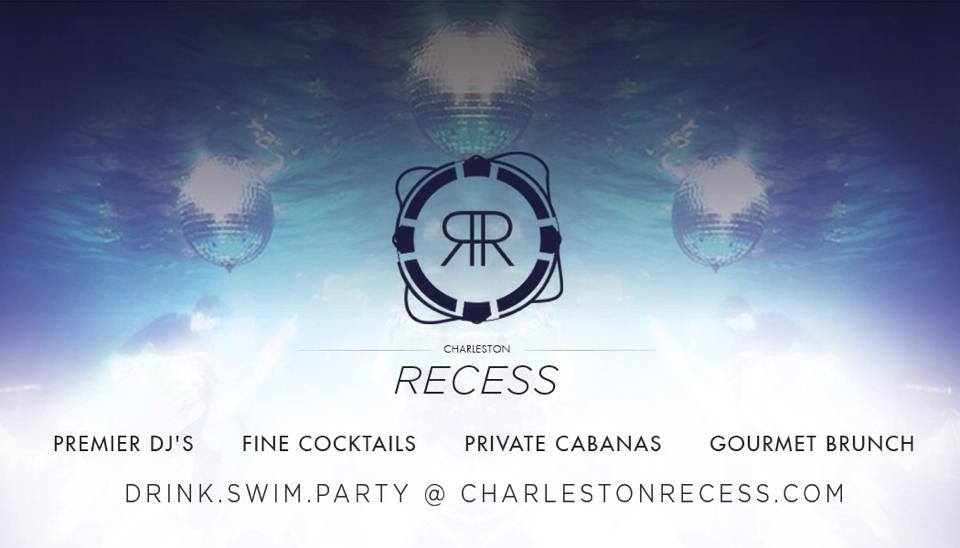 Charleston Recess @ Mixson Bath and Racquet Club
As if Park Circle needed another event to show why we're one of the best neighborhoods in Charleston…Charleston's most exclusive Day Party series is coming to the Mixson Bath & Racquet club! As a local realtor specializing in Park Circle and a member of the Mixson club, I am always on the lookout for events that increase the exposure of the neighborhood and enhance its reputation as one of the most progressive, diverse and cool places to live. Charleston Recess is just one of a number of exciting things going on in Park Circle, so I invite you to learn about it here!
What is Charleston Recess?
Charleston Recess takes day partying to a whole…'nother…level. Charleston Recess @ the Mixson Bath and Racquet Club will be an exclusive champagne & brunch pool party series with Live DJ's fine cocktails and amazing food.  Think about all the pool parties you've ever been to in your life and then multiply the fun factor times a lot, that's what Charleston Recess will be.
When is Charleston Recess?
Starting April 19, 2014, and continuing monthly until August, Charleston Recess will be featuring guest DJ's from around North America.  The first pool party will feature Rob Garza, founding member of music group Thievery Corporation.  Rob spins an infusion of electronic music with flavors of dub, trip hop, reggae, and bossa nova.
Where will Charleston Recess be held?
The party will be held at the Mixson Bath & Racquet club located 15 minutes from Downtown Charleston in the cool, creative neighborhood of Park Circle (4401 McCarthy St. North Charleston, SC 29405).
What can I Eat & Drink at Charleston Recess?
Food will be a main component of this all-day event starting with a Breakfast Buffet ($15) from 11am to 1pm featuring  Low country Cornmeal pancakes with spiced agave syrup, 24 Sweet tea brined fried chickens with rosemary and Fresh market salads.  This will be followed by "Apres Swim" ($10) from 4pm to 6pm which will have a luau style smoked pig and Hawaiian rolls by Brown's Court Bakery.  There will also be plenty of drink specials all day long featuring Mixson's signature frozen Cocojitos and a happy hour from 11am to 1pm with $2 Bloody Mary's and Mimosas.
How much are Tickets  to Charleston Recess?
Tickets to attend the event are:
$30 for a daypass
$40 for a VIP pass (includes admission, a poolside lounge chair & a locker to store your belongings)
$750 for a Premium Pool Cabana (Includes event admission for up to 10 guests, a luxury cabana with flat screen television, starter bottle of champagne, two premium spirit magnums of choice (from Ciroc, Crown XO, Don Julio or Bulleit), and a dedicated cocktail waitress.)
How do I get to Charleston Recess?
A Limo Bus shuttle will be offering round-trip rides to and from Downtown Charleston for only $10/person.  They will pick you up in front of the Charleston Music Farm (32 Ann Street) and take you on a 10-15 minute ride to the club.  Shuttles will pick up every 30 minutes starting at 10:30am – 7:00pm.
Check out the Charleston Recess promo video:
[youtube_sc url="http://youtu.be/B5dnchUvwag" title="Charleston%20Recess%20@%20Mixson%20Bath%20&%20Racquet%20Club"]
Now that you've got all the details, make sure to get your tickets and join in the fun!  For all the information on this event, you can visit the Charleston Recess webpage here.
Want to live in Park Circle? Check out all the homes available for sale below:
[spatialmatch_map id=2 width=100% height=600]