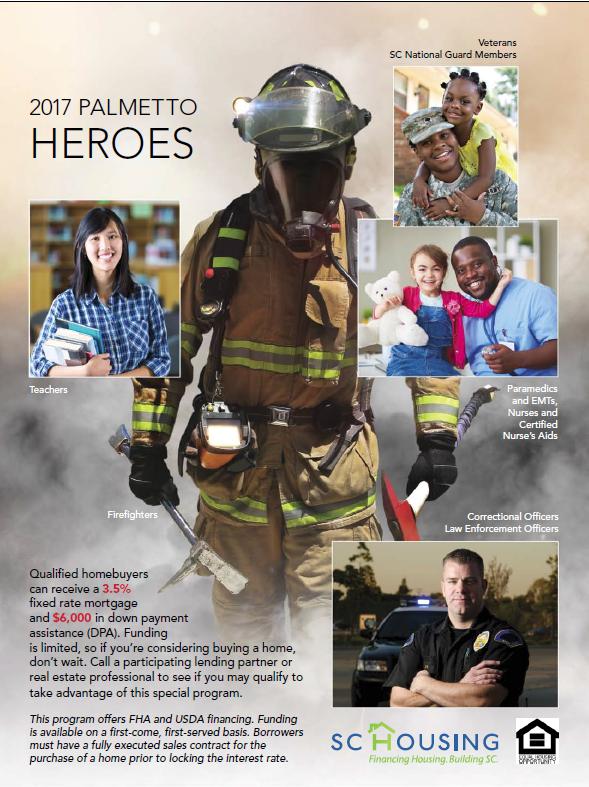 2017 Palmetto Heroes Program – NOW CLOSED FOR 2017
The SC State Housing Palmetto Heroes Program is back again for 2017 and it's not going to last long! This program is slated to start on April 19th, and works on a first come, first served basis.  To give you an example of how popular it is, funds for last year ran out in two months!  The Palmetto Heroes program is one of the most popular first-time home buyer programs in South Carolina, so if you are employed in one of the following professions and are currently looking to purchase a home, then contact me today!
This Year our Palmetto Heroes include:
(Must be employed Full-time)
•   Law Enforcement Officers
•   Teachers
•   Nurses and Certified Nursing Assistants
•   Firefighters
•   Veterans
•   Emergency Medical Services Personnel
•   SC National Guard (Active members; Army or Air, SC State Guard)
Heroes will have the opportunity to purchase a home with a:
•   3.5%, 30 year fixed, mortgage interest rate
•   Up to $6,000 down payment assistance (DPA)
The first step is to get approved through a participating lender and let them know you want to use the Palmetto Heroes program to reserve your funds.  Click here for a list of lenders in the Charleston area. Here are two that I have worked with in the past that can help as well:
Guild Mortgage
3032 W Montagne Ave Suite 103
North Charleston, SC 29418
Loan Officer: Brandon L Andrews
843-608-0470
brandona@guildmortgage.net
Starkey Mortgage, LLP
3955 Faber Place Drive Ste 102
North Charleston, SC 29405
Loan Officer: Matt Dorsey
843-952-2202
mdorsey@starkeymtg.com
Once you are qualified, then it is time to contact a Realtor, (like me!) to help you find your new home!  Once we find your home, make an offer, and it is accepted, we will then turn the contract over to your lender to get started with the application for the Palmetto Heroes program!  It's that simple!
There are some items to consider however…
There are income limits that determine if you have to pay back the downpayment assistance or not.
For buyers earning at least 80 percent of the area's median income (family size related), the downpayment assistance comes as a 10-year, low-interest second mortgage. For those earning less, the loan is forgivable, which means you don't have to pay it back!
For forgivable income limits – click here.
For repayable income limits – click here.
** Limits can change without notice.
If you would like more information or just want to get a better idea of how the program works, you can visit SC State Housing by phone at (803) 896-2211 or contact me today! Call (843)714-3855 or email me at: neil.bansil@carolinaelitere.com