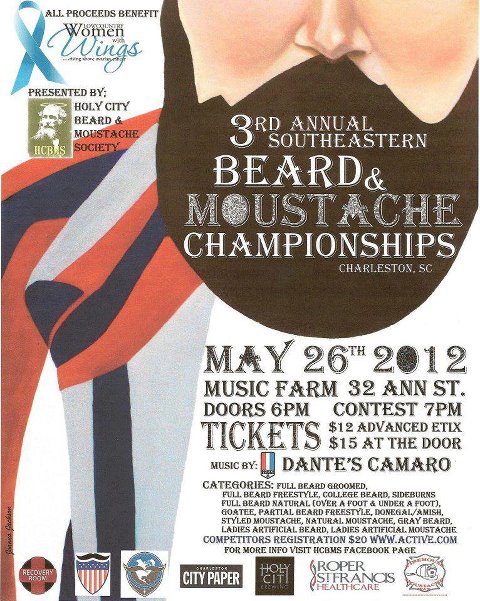 Southeastern Beard and Moustache Championships
The Southeastern Beard and Moustache Championships is back, and it's an event worth going to.  Not just to see really cool beards, but to see mustaches too.  Here are the details, if you want to join!
Brief Description
Welcome to the 3rd Annual Southeastern Beard & Moustache Championships brought to you by the Holy City Beard & Moustache Society. Join us as facial hair aficionados from all over the Southeast  & country come out to try and capture the title of best beard(s).
Additional Information
The categories include; sideburns, goatee, donegal (amish), partial beard freestyle, moustache (natural & styled), college beard, groomed beard, freestyle beard, ladies artificial (beard & stache), gray beard (salty dog) & full beard (over a foot/under a foot). Music will be provided by Charleston's own Dante's Camero & this is a charity event for Lowcountry Women with Wings (Ovarian Cancer). Costumes are not required, but are encouraged, come on out & HAVE FUN! TEAL is the color of the night!
For more info visit their twitter site at: http://www.twitter.com/hcbms