Park Circle Duck - The Duck, The Myth, The Legend
In 1928, the first rubber ducks were created as chew toys. 
In the 1940s, those rubber ducks developed into the iconic floating yellow figure we know today.
By 2013, this lovable bathtub toy was inducted into the National Toy Hall of Fame.
But in 2018, the biggest rubber duck scandal to hit North America happened right here, in Park Circle. 
Over the course of 4 tumultuous days at the end of July 2018, the citizens of Park Circle were gripped by the sudden appearance of a giant yellow duck that was spotted mysteriously floating along Noisette Creek, only to suddenly disappear, then magically reappear at another location with absolutely no explanation.
This is the true story of the Park Circle Duck.
First Known Sighting - July 28, 2018
On Saturday, July 28th, Nick Rubin documented the first sighting of the Park Circle Duck by posting a simple one-sentence question on the Park Circle Chatter Facebook page that read,
"Can someone explain this giant rubber duck in Noisette Creek?" 
What he didn't know is that this seemingly innocent query would set off days, months and years of Park Circle Duck mystery.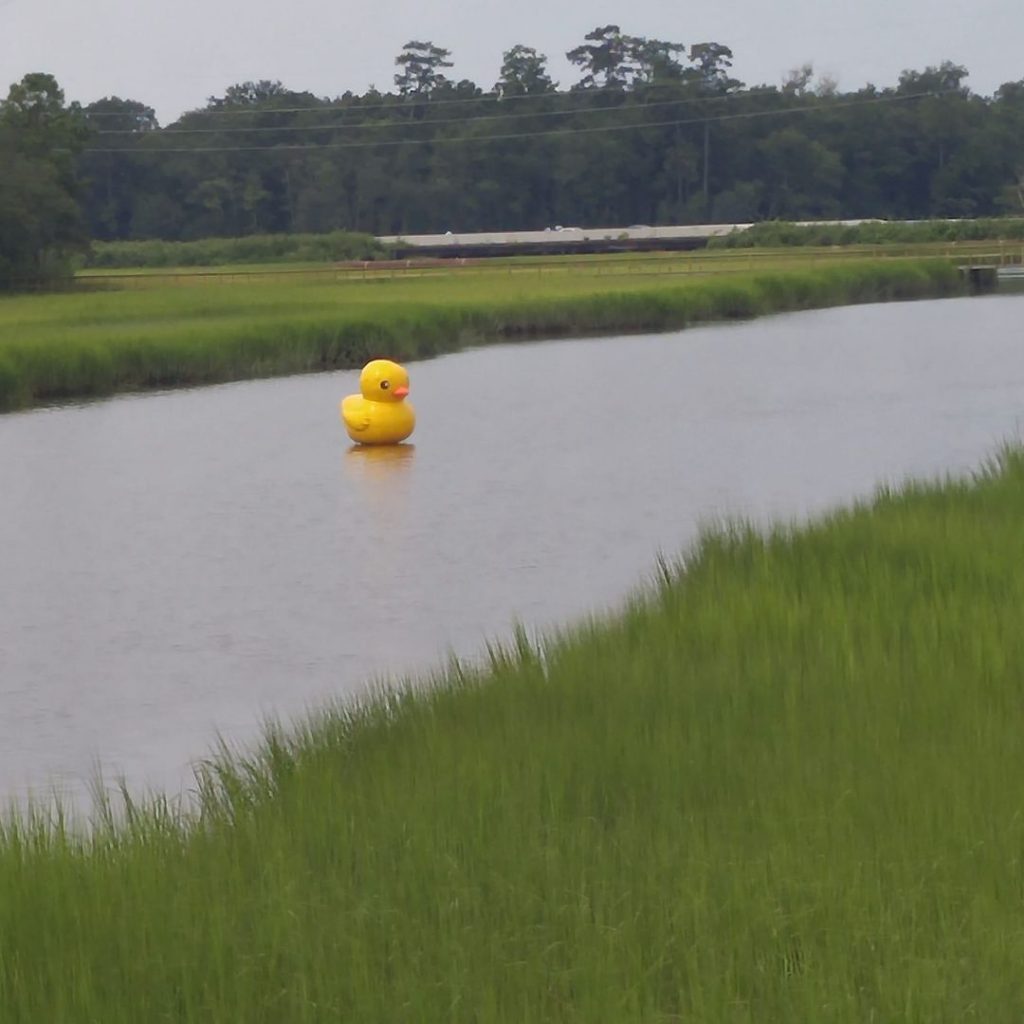 One day later, on July 29th, 2018, Allison Lake was the first to report the duck had either moved from it's original location on Noisette Creek to a more likely spot, at the appropriately named "Duck Pond" along Buist and Spruill. She urgently posted, 
"The big yellow duck moved! Now it's in the duck pond!"
Then, she ended her post with a question that started #duckgate as we know it.
"Or are there two now?"
Could it be?
Could there now be two ducks?
Allison Lake wanted to know.
The mystery of the Park Circle Duck was growing by leaps and bounds.  April Arnold added fuel to the fire with her mention of her own sighting of the Duck floating along Noisette Creek the day before, during her evening walk.
She commented, 
"Yesterday's walk. I call it Duck's Last Creek Day."
Did April know something we didn't know?  Was it indeed the Duck's LAST Creek Day?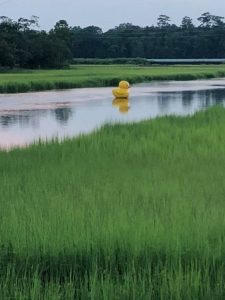 It wasn't too long before people started spotting the Duck perched at its new location at the Duck Pond.
Prisha Rae was able to take this snapshot of the Park Circle Duck getting a hit of vitamin D in the afternoon sun.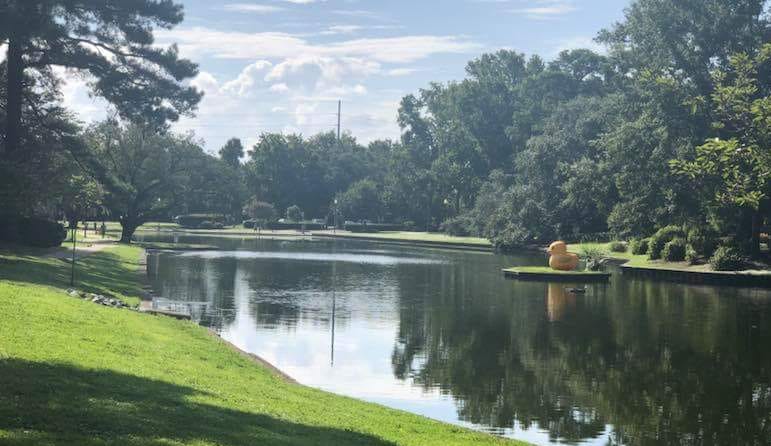 But later that day the skies grew angry and a torrential rainstorm started to fall.
That's when Brian Adams took this now infamous pic of the duck, obviously in distress and laying in a precarious position during the downpour.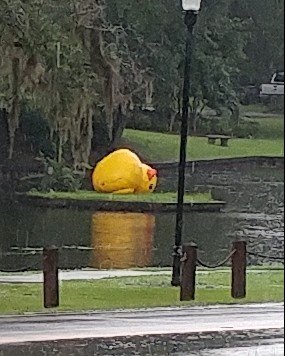 A second grainy photo emerged from Brian Adams, probably taken from the grassy knoll along the East side of the duck pond.
It was then that Brian Adams made an allegation that shook Park Circle to the core.
"Go home duck. You're drunk!"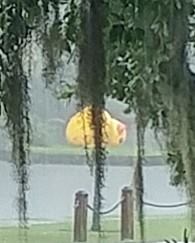 Had Brian Adams witnessed the Park Circle duck drinking an excessive amount of alcohol which lead to it falling sideways?
Was the Park Circle Duck so intoxicated that it was unable to stand upright because it's blood alcohol level was too high?   
Brian Adams seemed to think so.
A New Day - July 30, 2018
July 30th, 2018 started with sunny skies and the promise of something good. 
A post on Park Circle Chatter from Pam Salisbury captured that sentiment with 4 simple words,
"Still a happy duck!"
Words, that included a pic of the Park Circle Duck, now completely upright, sober and resting on its island, totally oblivious from the accusations hurled at it from the day before. 
Leslie Ann Mizell expressed what most Park Circle citizens were feeling when she said, 
"I flippin love that duck!!"
Two exclamation points, so you know she really felt it.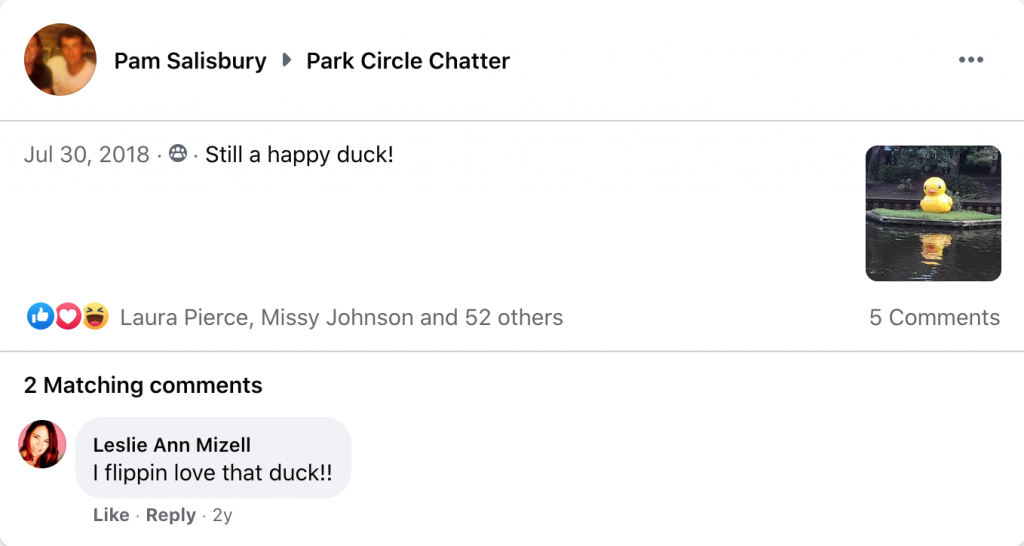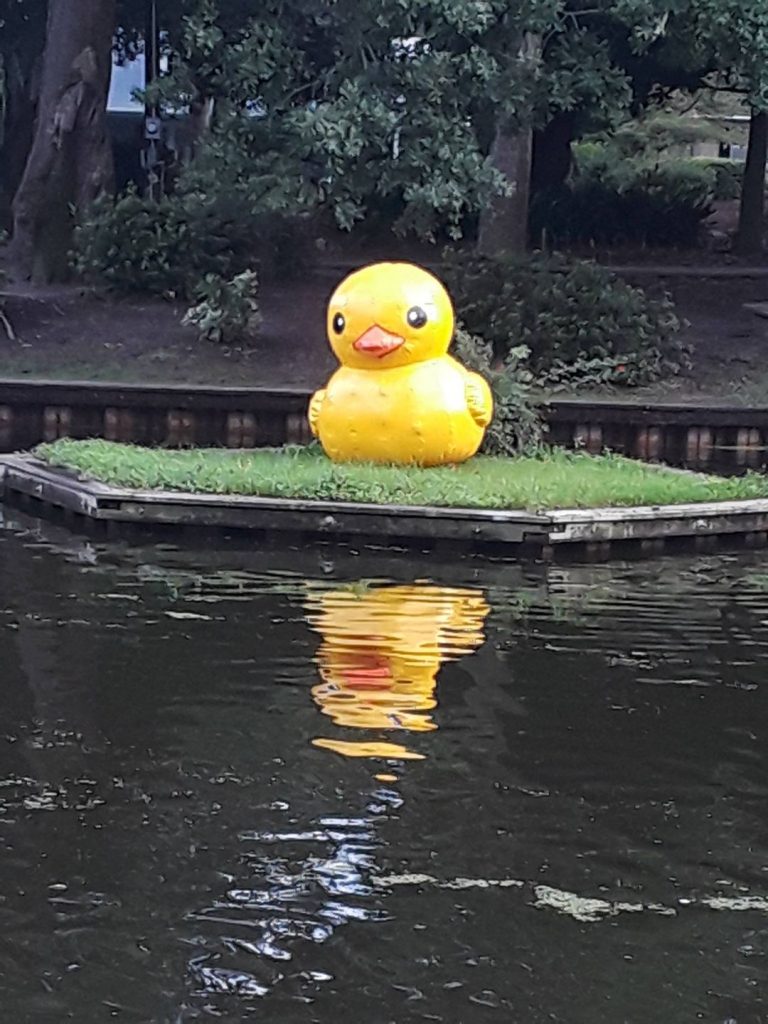 Where is the Duck?! - July 31, 2018
Just when everything seemed right in the world, Rozanna Paul posted a question that, no doubt, has been seared into the minds of all Park Circlelinians.
"Where is the duck??!!!"

Park Circle residents quickly started speculating with theories of the Duck's whereabouts.
Patti Hoelle wholesomely commented,
"Maybe the Duck got adopted!!"
That would have been nice, but highly unlikely.
Then Chrissy Malizzia chimed in with a theory that we all didn't want to believe, but knew it was a definite possibility being that the duck pond is home to other, more nefarious wildlife. She said,
"I think I found out what happened to the blow up duck…."
In the attached picture, Chrissy showed an alligator grinning from ear to ear.
Eva Mitchell Knox felt like it was a likely scenario based solely on the belly size of the alligator,
"He looks fat. Like he has a belly full of plastic duck."
Could this alligator be the culprit behind the missing Duck?  Only time would tell.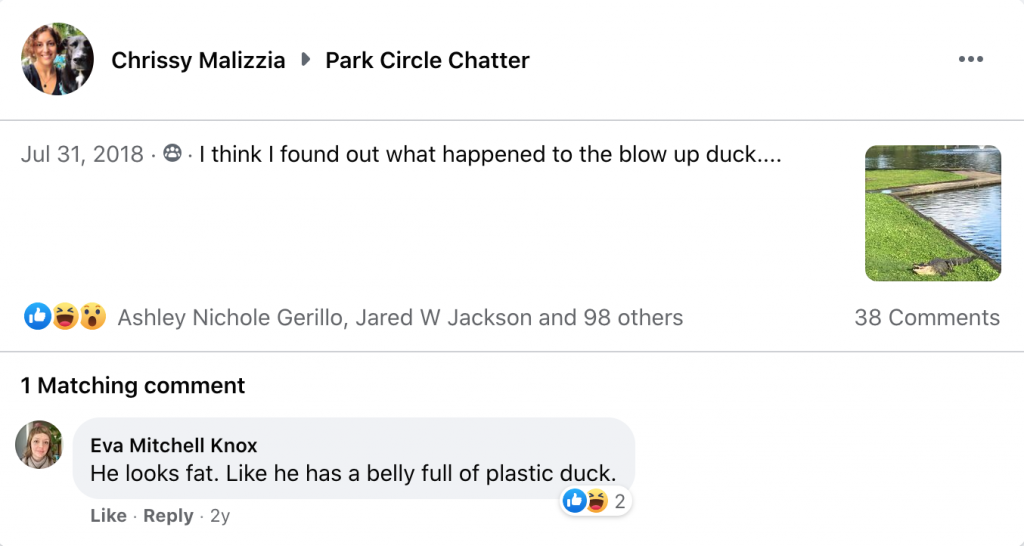 A Call to Action - August 1, 2018
A day passed without a Park Circle duck sighting, but on August 1, 2018, Kirk Lindgren pleaded for its return and ended his post with a hashtag that barely trended outside of Park Circle.
#bringbackthePCrubberduck
24 days passed before another mention of the Park Circle Duck. 
On August, 25th, Marshall Hill re-opened the wound by suggesting an alternative theory.

"The duck has apparently gone North for the fall…"
Only 3 people commented, because they knew that Marshall was probably didn't know what the hell he was talking about.

A day later, Jenion Tyson claimed the duck was now doing internet ads. 

Could Jenion and Marshall be the two behind the disappearance of the duck? It sure seems like they were trying to throw people off the trail.

Bring Back the Duck! - August 27, 2018
Almost a month after the disappearance of the beloved Park Circle Duck, John Apsey had had enough. 
He originated the call to "Bring Back the DUCK!" to bring happiness back to the Circle saying,

"If we all chip in together, we can bring happiness back to the Circle"

Gofundme - August 28, 2019
A day later, Kirk Lindgren answered the call and started a gofundme account to raise funds to Bring Back the Park Circle Duck! 
In what had to be "record time" (since nobody keeps records for raising funds for an inflateable duck), Park Circle folks raised $350 to bring back the duck.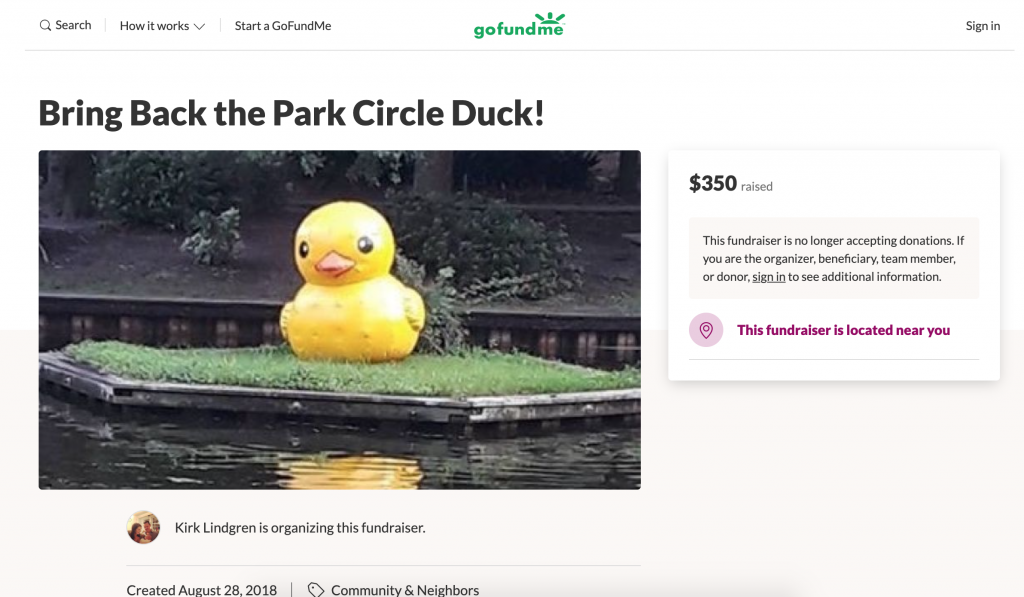 Since those eventful few days back in 2018, the Park Circle Duck has managed to make appearances at several locations in Park Circle.
In January 2019, it was spotted at the Charleston Marathon.
By February 2019, it even had its own merchandise.
Missy Johnson started selling the "Big Yellow Duck has a Posse" stickers.
The people of Park Circle loved the duck and flocked to it, whenever it was in sight. 
Here it was in March 2019 celebrating at the St. Paddy's Day Block Party. 
Then COVID hit, and the Park Circle Duck disappeared again.
Rumors run rampant that the duck contracted COVID and had to be hospitalized, but saner heads prevailed and realized that rubber ducks are immune to the COVID virus. 
From March 2019 to March 2021, sporadic Park Circle duck sightings were commonplace, but they were definitely becoming more and more infrequent.
Some insiders say that the Park Circle Duck just felt that it was time to finally leave the pond. After all, its work was done.
A Final Goodbye? or Hello Again? - April 6, 2021
On April 6th, 2021, Matthew Brady was able to catch this rare glimpse of the Park Circle Duck and posted his photo on Park Circle Chatter.
It was the Park Circle Duck floating along Noisette Creek.
Back in the place where it all started.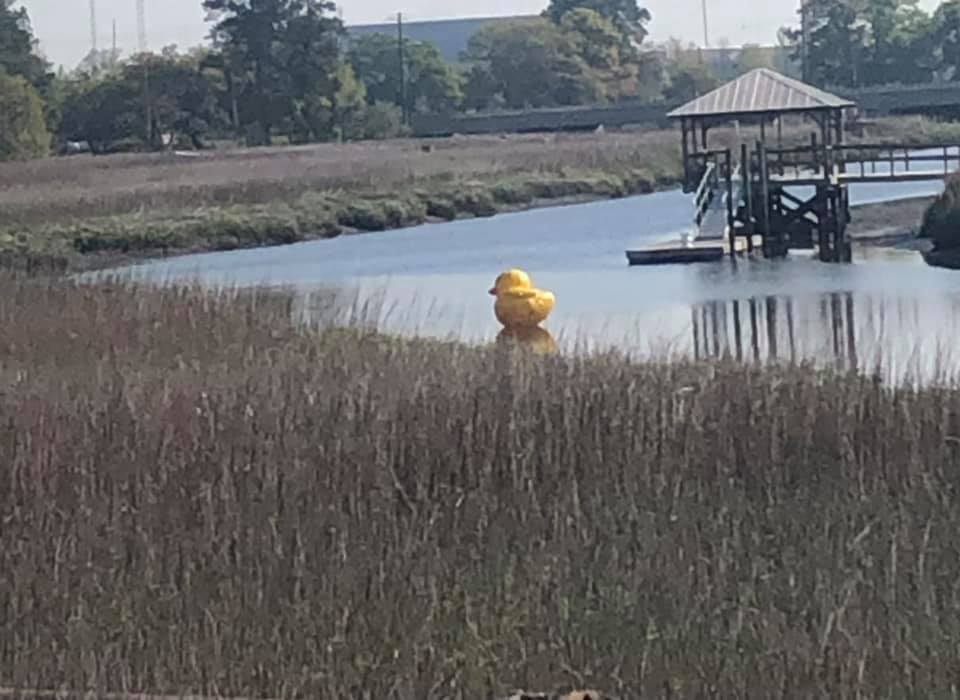 Could this be the end of the story, or is it just the beginning?