How to Price Your Home to Sell!
Whenever I speak to potential clients interested in selling their home, our conversation will inevitably turn to my opinion on what I think they should price their home at.  More often than not, homeowners will have a totally different estimation of the value of their home, based on their belief that they have the best house on the block and that's why it should be priced 30% higher than all other homes in the neighborhood.  If everyone took that strategy there would be no homes sold…ever.  What homeowners think their home is worth vs. what the current market says the home is worth can be the difference between your house getting sold quickly or staying on the market for a long time with little to no showings.
This article is about how to price your home to sell!  Let's face it, if you don't price your home right the first time, then you might as well get comfortable because you'll probably be staying there for awhile.  Think about it this way…Last month there was over 3,291 homes for sale in Charleston County.  Imagine those homes being stacked up like a pile of paper with homes priced at 10% lower than market value at the bottom, and those priced over 10% or more at the top.  As a buyer, where would you look first?  The bottom!  For one thing, it's easier to get to and you wouldn't need to buy a ladder to get to the overpriced listings at the top.  All buyers start at the bottom first.  They look for deals first, then they look at those that are market value, then finally after a few months, they'll buy a ladder and start looking at the overpriced ones.  By that time you've already wasted a few months on the market and the value of your home continues to decrease, not to mention the stigma of doing price reduction after price reduction only to get to fair market value after a few months.  Why not start at market value or lower and save yourself all the hassle?  Here's a handy chart showing the relation of your asking price vs. the number of  prospective buyers who will look at your property.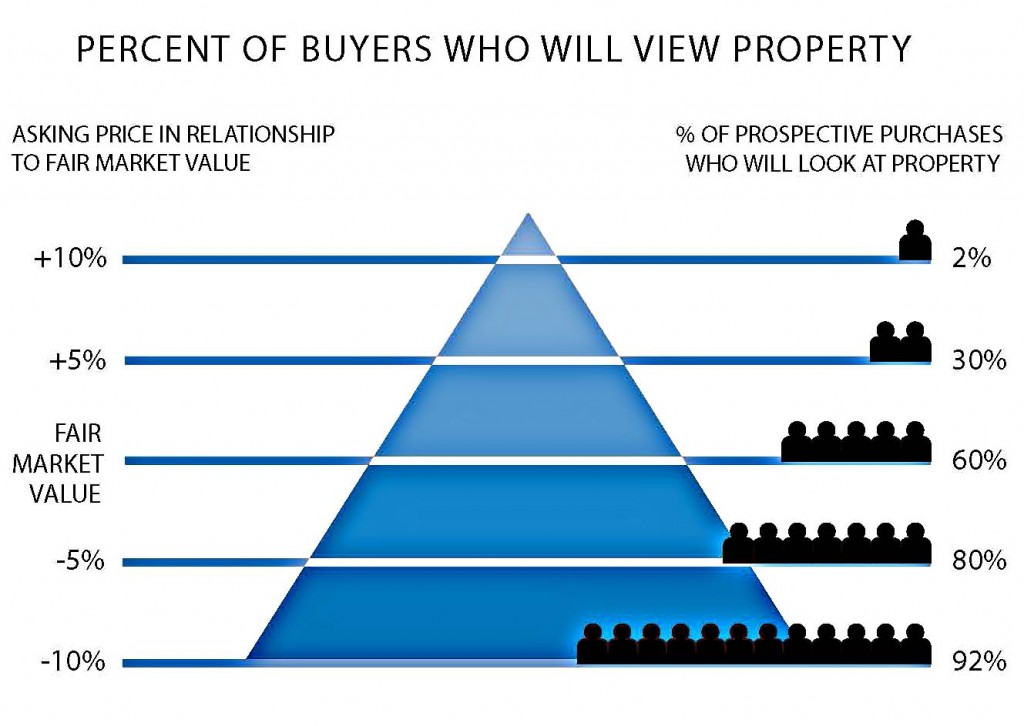 Do you see what I mean?  If you price your home at $300,000, but all the recent sales in your neighborhood are closer to $280,000, then expect only around 2% of all prospective buyers to come look at your home.  You might think to yourself, "Well, it only takes one buyer."  That's true, but that one buyer may come 8 months down the line, and if they are working with a realtor, they will probably offer closer to the fair market value anyways.
Hopefully you learned a little something!  If you have any questions, please do not hesitate to ask!  If you would like me to send you a free home value evaluation, just fill out this form here.  Happy House selling!