Park Circle Market Monitor
As a Realtor and specialist in the Park Circle neighborhood it's my job to know exactly how well the market is going at any given time. How I do that is by analyzing the latest market statistics provided by my local Realtors association. As a potential buyer or seller, this information can be invaluable.
Below are specific market statistics that show the progress in Park Circle from 2015 to today for single family homes.
Park Circle Neighborhood Median Sales Price June 2017: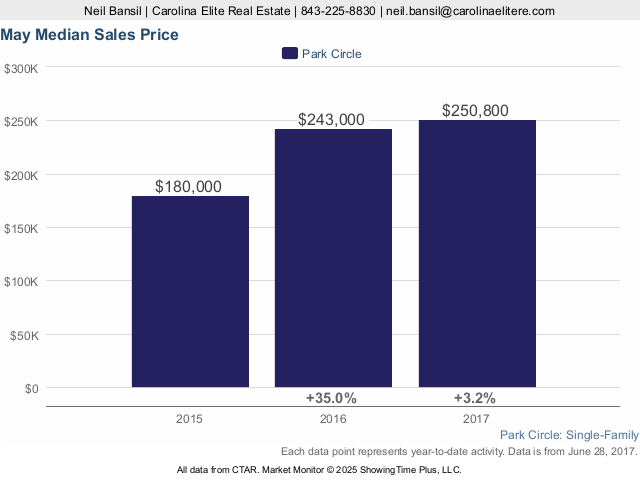 In this graph we see an incredible leap in median sales price from 2015 to 2016 with a whopping 35% increase and then a modest increase of 3.2% from 2016 to today. Contributing to the large increase in median sales price from 2015 to 2016 may have been all the new construction going on in the Oak Terrace Preserve neighborhood where prices have steadily increased and are now consistently selling in the mid $300,000's.
Park Circle Neighborhood Price Per Square Foot June 2017: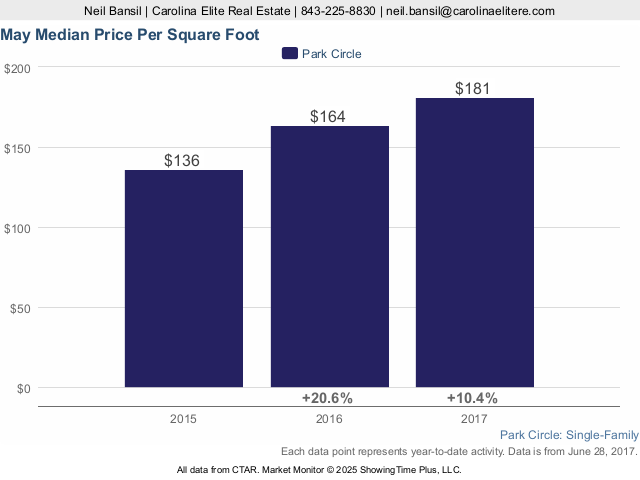 At an median price per square foot of $181, Park Circle is creeping up to other established neighborhoods such as Avondale ($251 per Sq. Ft.) and Riverland Terrace ($268 per Sq. Ft.). If we continue to improve our schools, offer great amenities and green space, plus provide residents with safe quiet spaces, then there should be no reason why Park Circle shouldn't be able to reach the values of other similar neighborhoods.
Park Circle Supply of Homes for Sale June 2017:
Currently, there is a 2.7 month supply of homes for sale in the Park Circle neighborhood. This is up 12.5% from last year, which should tell you that buyers have options at the moment, however that doesn't mean that those options are the "best" options. A lot of this supply comes from new construction as well as houses that are not in the most desirable locations.
These are just a few of the statistics I look at when working with buyers and sellers who want to buy or sell in Park Circle. There's so much more useful market info available that I am including live access to it below! These live statistics are always updated with the latest data to give you a quick snapshot of the Park Circle neighborhood. If you have any questions, just let me know. You can email me at: neil.bansil@carolinaelitere.com
Park Circle Neighborhood Median Sales Price (Live)
Park Circle Neighborhood Median Price Per Square Foot (Live)
Park Circle Neighborhood Average Days on Market (Live)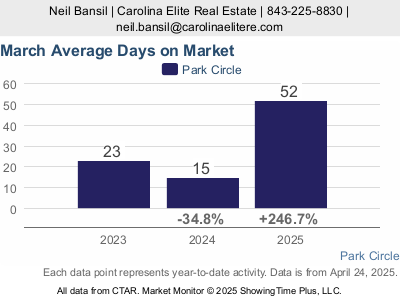 Park Circle Neighborhood Months Supply of Homes for Sale (Live)