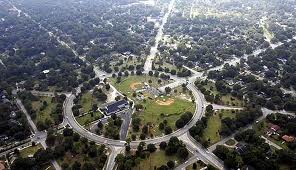 North Charleston is experiencing a real estate boom!  I put an exclamation mark after boom because it deserves emphasis!  The health of the real estate market in North Charleston is evident by the increasing popularity of  the olde village area in Park Circle as each night, new and old residents pack the neighborhood restaurants.  Which once was just a few businesses is now a bustling street filled with hungry residents enjoying everything from Homemade Pasta dishes at Fratello's Italian Bistro to Fish and Chips at Madra Rua Irish Pub or a wood-fired gourmet pizza at EVO Pizzeria.  All the signs of a housing market recovery are here, including construction of new homes sprouting up at subdivisions like Oak Terrace Preserve, Hunley Waters, and Mixson.  The resale market is also healthy as savvy home buyers are also snatching up older homes at affordable prices and renovating them into their dream home.
The turnaround is attributed to a very vocal and involved Mayor.  Mayor Keith Summey has worked extremely hard to make North Charleston a true Live/Work/Play community and has made it a priority to invest in infrastructure to make North Charleston a desirable place to live.  Park Circle has natural advantages to other locations, including being central to everything.  You are within a 20 minute drive to beaches, downtown Charleston, Shopping and Recreation.  Another advantage is that home prices remain very affordable so if you are thinking about relocating to the Charleston area, Park Circle might be worth a look especially if you are an employee of Boeing, the Charleston International Airport, Spawar, The Navy Yard, or Verizon Wireless which have offices within 5 -10 minutes from Park Circle.
(Full Disclosure:  I live in Park Circle at Oak Terrace Preserve and think it's the best neighborhood in Charleston, but don't just take my word for it!  Watch the video below…)
ABC News aired a news report featuring North Charleston and why families are flocking to the neighborhood.  They also interview my broker, Melissa Bissett at our local Park Circle real estate office – 1081 East Montague Ave.