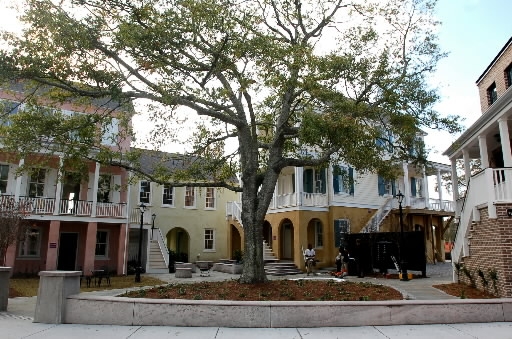 Jamestown Properties, an Atlanta based developer pulled the plug on this housing project in 2008 as the market went south, but in 2012 it looks like the Mixson development is back on track, albeit a little smaller in scope.  This is hopefully good news to the existing owners of the 18 completed homes that currently stand there today.
This unique project was originally slated to have over 900 housing units, but according to new plans the development will drop down to around 600.  The new plans include a few different wrinkles with the immediate phase slated to have a mix of 22 detached houses, 10 town homes, commercial space and a $2.1 million pool, badminton and bocce center.  Any place that has a badminton and bocce center has to be cool right!?
Apartments will also be built on the site and should be completed by summer of 2013.  This could be a success as the immediate area around Park Circle lacks rental units, and a new rental complex hasn't been built in the area for years.  With the proximity to Boeing, AFB, Spawar, the top Academic Magnet School and the restaurants and businesses at Tanger, Mixson may very well be a popular place to live in the near future.
The current homes were built with the principles of environmentally sensitive construction methods, energy efficiency, public gathering areas and walkability.  Park Circle is definitely a place to be if you're looking for sustainable housing.
I, for one am looking forward to seeing what happens in the future for this development!