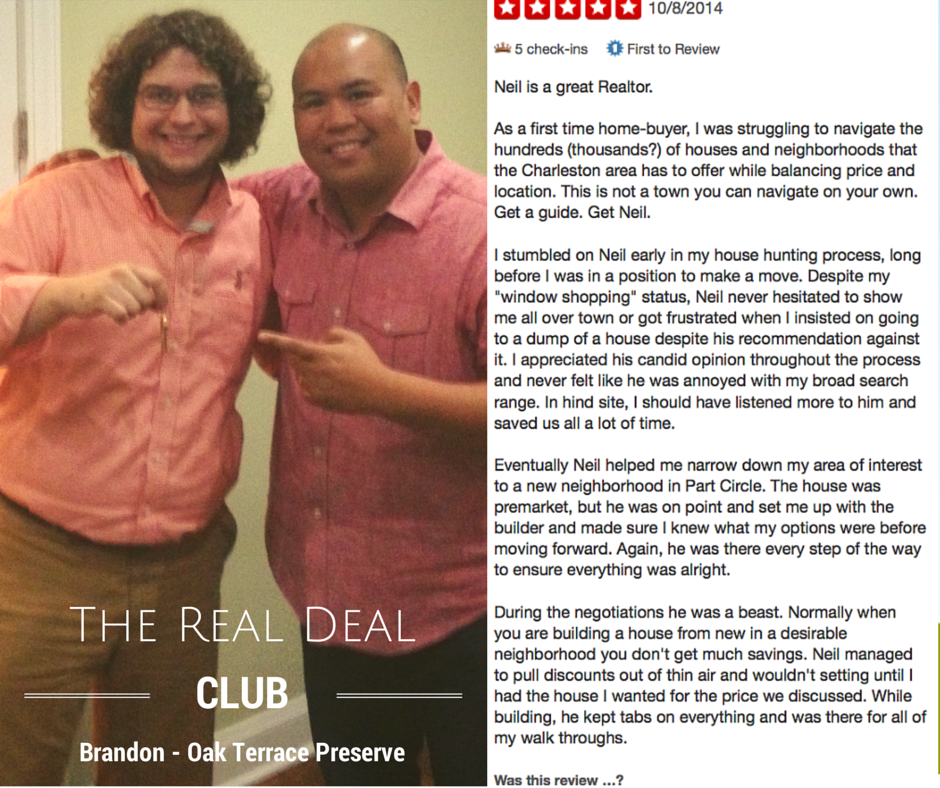 Real Deal Club Inductee: Brandon
Congratulations to Brandon on becoming the latest inductee into the ultra-exclusive "Real Deal Club!" I met Brandon over a year ago when he first started his home search, and he was undecided if he wanted to live in an older home that he could fix up or if he liked the newer homes with more space. I was able to show him my neighborhood of Oak Terrace Preserve and show him how convenient it was to everything that he could ever want, and yesterday he finally closed on his new Oak Terrace Preserve home! It was a pleasure working with him and I am happy that he was able to help him during his home search. Brandon was kind enough to share his thoughts about working with me in a Yelp review in the photo above. Here is the transcript of it below.
Neil is a great Realtor.

As a first time home-buyer, I was struggling to navigate the hundreds (thousands?) of houses and neighborhoods that the Charleston area has to offer while balancing price and location. This is not a town you can navigate on your own. Get a guide. Get Neil.

I stumbled on Neil early in my house hunting process, long before I was in a position to make a move. Despite my "window shopping" status, Neil never hesitated to show me all over town or got frustrated when I insisted on going to a dump of a house despite his recommendation against it. I appreciated his candid opinion throughout the process and never felt like he was annoyed with my broad search range. In hind site, I should have listened more to him and saved us all a lot of time.

Eventually Neil helped me narrow down my area of interest to a new neighborhood in Part Circle. The house was premarket, but he was on point and set me up with the builder and made sure I knew what my options were before moving forward. Again, he was there every step of the way to ensure everything was alright.

During the negotiations he was a beast. Normally when you are building a house from new in a desirable neighborhood you don't get much savings. Neil managed to pull discounts out of thin air and wouldn't setting until I had the house I wanted for the price we discussed. While building, he kept tabs on everything and was there for all of my walk-throughs.
Thanks Brandon!