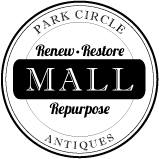 Park Circle Antiques Mall – Opening August 1, 2013 –
(NOW CLOSED – Space now used by restaurant – Maya Del Sol)
On August 1, 2013, mark your calendars to stop by the newest business opening up in the Olde Village area in Park Circle! The Park Circle Antiques Mall will be holding a ribbon cutting ceremony this Thursday at 10am to celebrate their new location at the corner of Virginia Ave. and East Montague (1012 East Montague Ave). The opening of the Antiques Mall will bring a much needed retail aspect to the Olde Village district and will complement the already successful dining options in the area.
The Park Circle Antiques Mall will feature a number of items, including antiques, collectibles, jewelery, furniture, vintage goods, re-purposed goods and "green" products. One thing that will separate this antique mall from others is that they have chosen dealers who embrace their motto of "RENEW…RESTORE…RE-PURPOSE"
The next time you visit the Olde Village in Park Circle for a bite to eat, make sure to give yourself a little extra time to walk through the Park Circle Antiques Mall. Who knows? You may find something cool to take home!
If you're interested in being a dealer or would like more information about the mall, you can email them here: parkcircleantiquesmall@gmail.com.