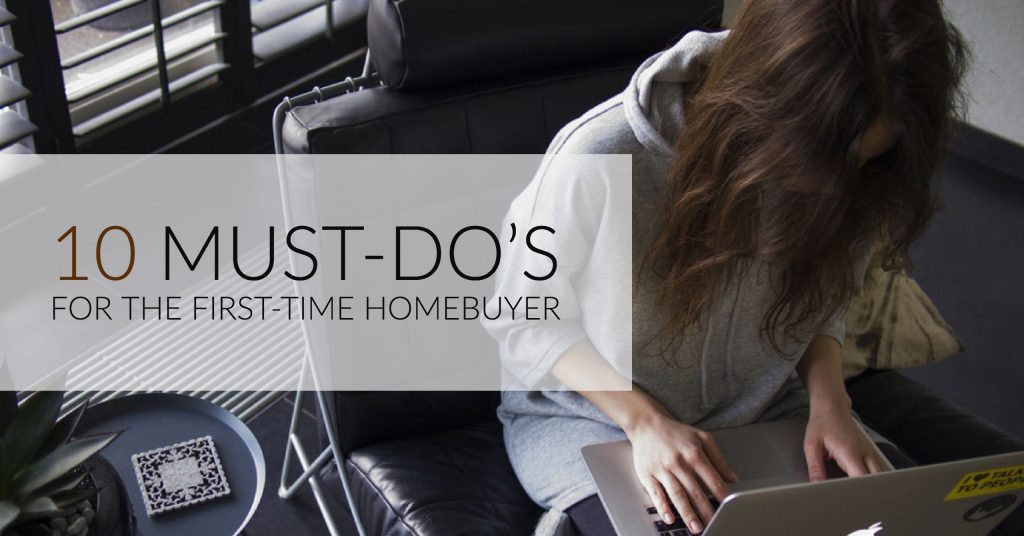 10 Must-Do's for the First-time Homebuyer
I recently started working with a young couple who were interested in purchasing their first home in Park Circle and the question they posed to me was, "What upfront fee's should we expect to pay prior to closing?" From a budgeting standpoint, I totally get it. You definitely want to know what you're getting yourself into before you go through the process of signing a contract. Understanding the financial aspects of purchasing a home is just one of the things a buyer must-do, but there are also other items to consider. Here are my top 10 Must-Do's for the First-time Homebuyer.
1. Check your credit
Down payment and your credit score are the two things that can make or break your plans to buy a home. Get your annual free credit report from Creditkarma.com and see if there are any errors or mistakes that might be lowering your score.
2. Get your Financial paperwork in order
Before you get a pre-approved for a mortgage, why not go ahead and put together your financial information. The moment you find a house, go under contract and submit the contract to your lender to start the loan process they're going to ask you for things like W-2's, work pay stubs, bank account statements, tax returns for the past two years. Here's a list of items you will likely need to have on hand:
a) W-2 form
b) Your most recent paystub
c) Tax returns for the past 2 years
d) 1099's (if you're self-employed)
e) Debts – credit cards, car loans, student loans, etc.
f) Assets – bank statements, investments, retirement accounts
Your lender will probably ask you for more, but this should give you a good idea.
3. Find a lender and get Pre-approved
A good place to start is your local bank or credit union. You can also find local lenders or online lenders. If you're building a new home, ask if the builder has a 'preferred lender,' because they might be offering an incentive that can save you some money on closing costs. Another way of finding a lender is to ask a Realtor you trust because they typically know the best options out there. Don't be afraid of applying to multiple lenders in the same month (credit bureau's can see that you are shopping for a mortgage and won't ding your credit score too much). Getting pre-approved allows you to see the maximum amount of house you can qualify for and will help you to narrow your search.
4. Determine what your total monthly housing cost will be
Just like I mentioned in the intro, once you find a house you love, then you have to determine how much it's going to cost you. Your mortgage payment generally is comprised of your principal payment + Interest, Taxes and Insurance (PITI). Tell your lender that you are interested in purchasing a house for X amount of dollars. Ask them to put together an estimate of your total monthly payments. Compare that mortgage payment to the other lenders you applied to and see which loan is for you!
To get a good idea of your insurance payments, one thing you could do is contact an insurance agent (you can try the insurance company that covers your car) and ask them for an estimate. Of course, you wouldn't be obligated to buy the policy, in fact, it's best that you shop around for the best insurance rate as well with multiple insurers.
For property taxes, you or your Realtor can look up tax info online. In Charleston County, you can search for property tax info here: http://sc-charleston-county.governmax.com/svc/
5. Find out how much your closing costs will be
Just like I mentioned in the intro, there is more to buying a house than just the down payment and the monthly mortgage. You also have to consider "Closing Costs." These are upfront costs charged to you at closing. Things like lender origination fees, title insurance, attorney fees, prepaid items like taxes, homeowners insurance, flood insurance, or HOA fees. Typically, the fees amount to between 2-4% of the purchase price, however if you're purchasing a new home, sometimes the builder offers closing cost incentives, or if you're buying a resale property, the seller might contribute some of your closing costs (if your Realtor is able to negotiate that!).
6. Does your budget allow for a house?
Consider your budget and ask yourself if buying a house is in your best interests. As a general rule of thumb, buyers should spend no more than 28% of their income on housing. So if you make $5,000 a month, you really shouldn't spend more than $1,400 per month for your house. The risk of becoming "house poor" (where you are spending the majority of your income on home ownership) is higher if you go anywhere past 30%. Imagine paying your mortgage and utilities, but all you've got left is enough for a few packs of Ramen noodles and an Orange. That's not cool.
7. Are you ready to own a house?
Hey, I admit. Owning a house is cool. I'm all for it. It's a great way to start building wealth, but it also can drain your bank account as well. Things like roof repairs, plumbing issues, furniture, and appliances. The costs can add up, and if you're not ready to handle it, then maybe renting is still right for you.
8. Understand what other homes are selling for in the neighborhood you want to live in
Ask your Realtor what comparable homes are selling for in the neighborhood. Not only will you get a good idea of if you're overpaying or not, but you can also use that info to get an estimate of your monthly mortgage payments from your lender.
9. Be Ready to ACT if you find a home you like
Believe it or not, there are other people just like you looking for homes and they're probably looking at the same house you are. The last thing you would want are those people being quicker than you and purchasing YOUR house. When you find a home you want, be ready to make a move!
10. Find a Realtor who knows the area you want to live in like the back of their hand
A good realtor is worth the time and effort to find. They can tell you everything you need to know about the values in the neighborhood, the amenities, the good and the bad. You want to work with someone who knows Park Circle like the back of their hand, ie. ME!
Here are the most important questions you should ask your potential Realtor before you decide to use them!