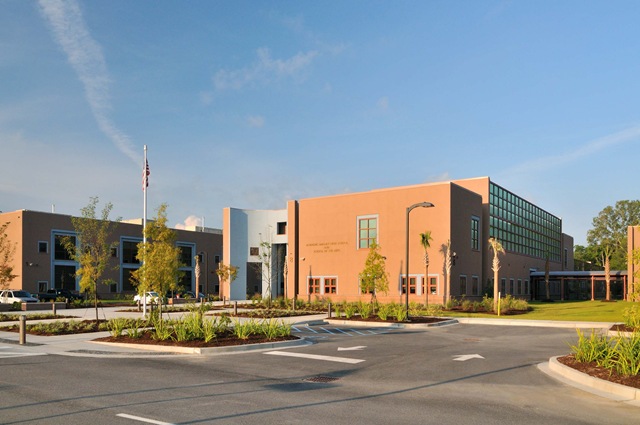 Academic Magnet High School is located in the Park Circle neighborhood of North Charleston, directly adjacent to the quickly developing community of Oak Terrace Preserve.  In 2012, Newsweek ranked Academic Magnet High School 22nd out of 1,001 high schools in the country.  With a national ranking continually in the top 25 schools in the nation, parents naturally aim to have their children attend this highly sought-after school.  Academic Magnet High School serves approximately 600 students who have to go through an admission process.  As you can imagine, the requirements for eligibility to this school are understandably high.  If you are planning for your child to attend AMHS then here's what you need to know:
All students wishing to attend must submit an application (available online at www.amhs.ccsdsschools.com) and must have completed Algebra I prior to starting Grade 9 at AMHS.  Students must also score at or above the 85 percentile on an Explore Test in Reading and Math.  Once they have met those two requirements, admission will then be based on the following criteria:
• Academic Performance: Grades in math, ELA, science, and social studies.
• Writing Sample: Given in all CCSD middle schools and at AMHS at
scheduled times.
• Teacher Recommendations: Math, ELA, and Social Studies or Science
• Explore Test scores in Reading and Math:
– This nationally normed standardized test is required of every applicant.
– The Explore Test has been administered in all CCSD middle schools;
CCSD student applicants cannot take the Explore Test a second time.
– The Explore Test costs $10.00, and checks may be made payable to CCSD.
Reservations for the test may be made by calling 746-1300.
Click here for an example of an application form.
If you are one of the lucky ones to have your child accepted into the Academic Magnet High School and are looking to move to a home closer to the school, then you'll want to watch this video from Mayor Keith Summey (Mayor of North Charleston) talking about the convenience of Oak Terrace Preserve to the Academic Magnet High School.
Mayor Summey on Oak Terrace Preserve and Convenience to Academic Magnet High School
HOMES AVAILABLE AT OAK TERRACE PRESERVE
Sorry we are experiencing system issues. Please try again.