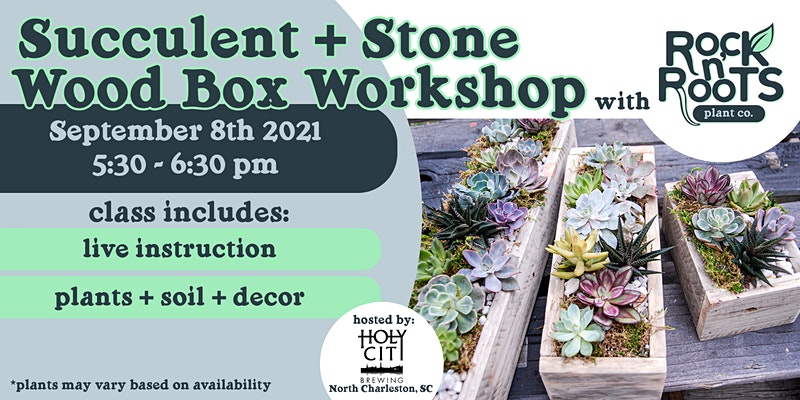 Succulent + Stone Wood Box Workshop at Holy City Brewing
Join Rock n' Roots Plant Company for an evening of planting at Holy City Brewing located near Park Circle in North Charleston, SC! This class is great for beginners or plant experts alike and will include:
1 hour build time + live instruction
choice of 6, 12, 18, or 30 inch locally-made wooden box

6 inch (5 rooted succulents) – $35 + Fees
12 inch (8 rooted succulents) – $48 + Fees
18 inch (12 rooted succulents) – $68 + Fees
30 inch (20 rooted succulents) – $88 + Fees
plants may vary depending on availability

decorative materials (stone, soil, moss)
care tips
one watering wand
food + drinks available for additional purchase
All ages welcome! Children must be accompanied by an adult. This location will be held in a wheelchair-accessible indoor or outdoor public space depending on the weather. Seating is limited. Pre-registration is required to attend.
Tickets are non-refundable. Please contact hello@rocknrootsplantco.com for options.