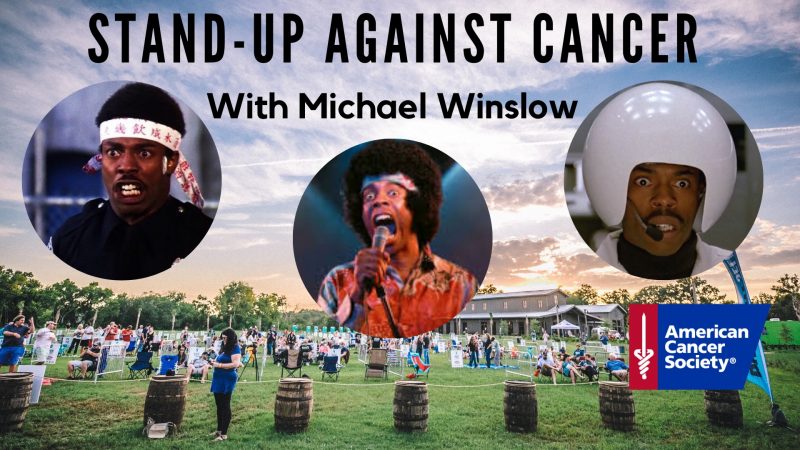 Stand-Up Against Cancer with Michael Winslow (Police Academy)
Stand-up Against Cancer is a Comedy Show fundraising event benefiting the American Cancer Society, a nationwide voluntary health organization dedicated to eliminating cancer (www.cancer.org).
The show takes place at the world-famous Firefly Distillery. Bring a blanket or your favorite lawn chair, and spread out on the lawn in front of the amphitheatre stage. Doors open at 5 PM for the show area. Come early, schedule a tasting, shop the gift store, buy some of the amazing spirits, and enjoy the food truck of the day. The show starts at 6 PM sharp.
Headliner Michael Winslow is a master of vocal gymnastics, can imitate over 1000 sound effects using his voice alone. Whether he is recreating the frenzy of Jimmy Hendrix playing the guitar, or the roar of a jet plane, his talent is truly remarkable and his versatility admirable and enjoyable for all ages!
As soon as Police Academy came out and it became an instant success so did Michael! His celebrity status was in place. He then went to play a part in Mel Brook's "Spaceballs". This film helped in furthering his spotlight as a unique comedian. A man with a special talent that made "families" laugh. Michael was also heard, but not seen, when he gave the voice to Stripe, the evil little creature, in another Hit Movie "Gremlins." He also did voice-overs for Disney and Universal Studios in such rides as "Back to the Future " and "Terminator". Currently, you can also hear him in the Television Hits "Robot Chicken" and "Family Guy" You can't miss him on those great "Geico" commercials.
The show is produced and hosted by Charleston local comedian Keith Dee and will include the very funny Mike Elis. Mike and Michael will be producing a documentary series later this year as they travel around the country performing comedy in historical theatres. Follow their journey at https://www.facebook.com/TheArtisanOfFlatRock