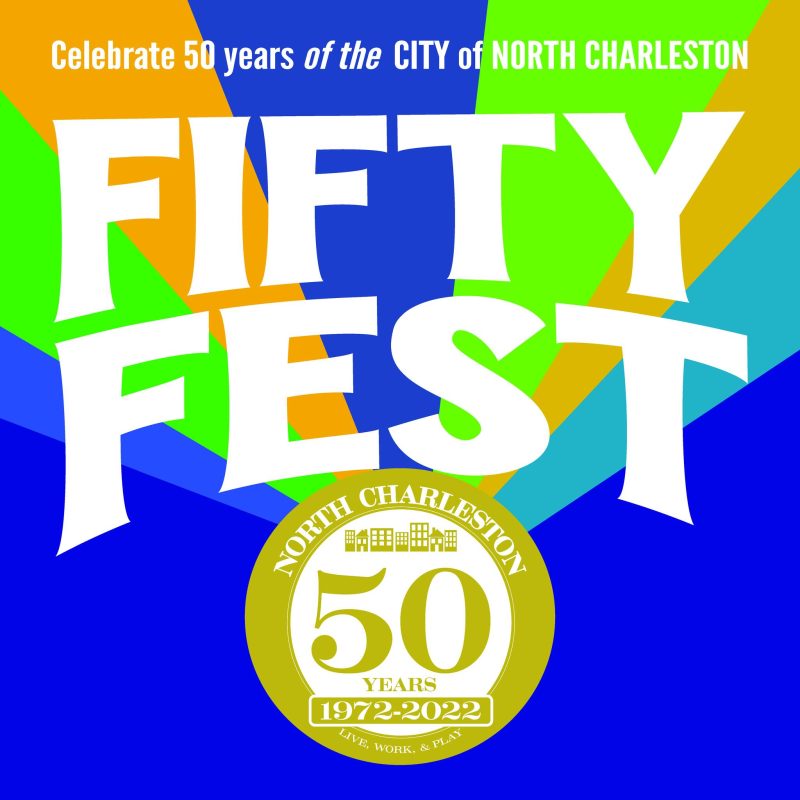 North Charleston Fifty Fest
Join us for North Charleston's Fifty Fest on June 11, 2022, 4-9 pm in the Park Circle Olde Village, as we commemorate our city's 50th anniversary. This all-free community street festival, along the business district on East Montague, will feature bands with tunes from the last five decades, a huge Kids' Zone, local vendors and merchants, and North Charleston's 50th Anniversary Classic Car Show, showcasing America's motoring past. Free merchandise, prize giveaways, and dessert-for-all at the pinnacle of the festival as we all sing Happy Birthday to our wonderful city in celebration
This family-friendly event will highlight the city's past and present, but most importantly, will bring together our wonderful, diverse, and unique citizens in a day of celebration.
**Live Music**
Main Stage
DJ Natty Heavy – 4:00 – 5:00, 6:30 – 7:00 and 8:30 – 9:00
Heather Hayes Experience – 5:00 – 6:30 and 7:00 – 8:30
Second Stage
JVR Trio – 4:00 – 5:00
Kat Velasco – 5:30 – 7:00
Gino Castillo Quartet – 7:30 – 9:00
**North Charleston's 50th Anniversary Classic Car Show**
As part of the 50th Celebration of North Charleston join us for our Classic Car Show celebrating 50 years of vintage vehicles from the 1940s to the 1980s! This epic and action-packed car show will feature classic cars, hot rods, vintage trucks, rat rods, import, custom, low rider and more!! There will also be live music, vendors, multiple car show categories, prizes, and other surprises! $20 to enter a car in advance and $25 day of show. Registration check-in and car parking start at 2 pm and the show kicks off at 4 pm and goes until 9 pm."
**Kids' Zone**
The all-free kids' zone includes a carousel, a Ferris wheel, bungee trampoline, mechanical bull, inflatables, obstacle courses, bubble therapy, spin art, hula hoop zone, and roving stilt walkers, balloon twisting, photo booth, soccer kick inflatable and Soap Bubble Circus performer.