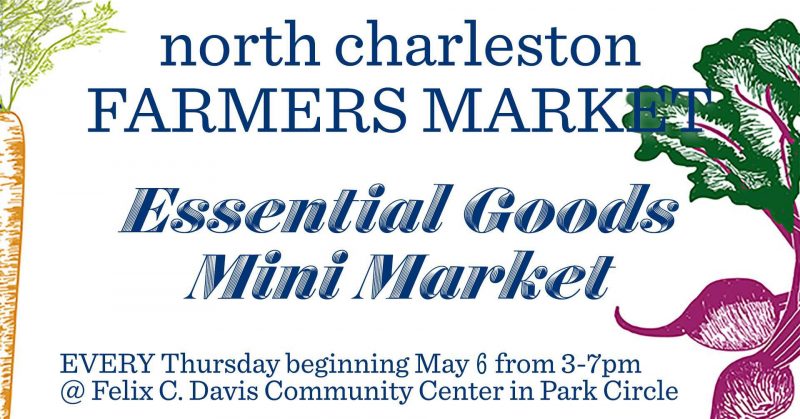 North Charleston Farmers Market
The North Charleston Farmers Market offers an abundance of fresh, locally grown SC Certified produce from Joseph Fields Farm Market, Robert Fields Farm, and Simmons Farm.
The market will continue to operate as an Essential Goods Mini Market until further notice, just as it did for the full 2020 season. Participating vendors are limited to those selling farmed goods and specialty food items, with a different food truck featured each week.
North Charleston Farmers Market Safety Precautions:
-Hand sanitizer available to all market patrons
-Farmed goods and specialty food products only
-Limited number of well-spaced booths
-Customers to adhere to 6′ social distancing policy
-Only five (5) customers per farmers booth and two (2) customers per specialty vendor booth at a time
-Per City ordinance, all market participants (patrons, vendors, and staff) are required to wear face masks
-Avoid touching food that you do not intend to purchase
-Cash-free transactions are encouraged
The North Charleston Farmers Market hopes to provide an essential service to our community by offering a safe, outdoor produce shopping alternative. This is a great opportunity to support our local farmers and shop for healthy local produce.
The 2021 North Charleston Farmers Market takes place every Thursday from May 6 through October 28 from 3:00 to 7:00pm at Felix C. Davis Community Center, 4800 Park Circle. Free parking.
Food truck schedule:
May
6 – Flight
13 – TBD
20 – TBD
28 – TBD
June
3 – Don Sazon Empanadas
10 – TBD
17 – Lola's Lumpia
24 – TBD
July
1 – TBD
8 – Don Sazon Empanadas
15 – Flight
22 – Wicked Waffles
29 – TBD
August
5 – Don Sazon Empanadas
12 – Flight
19 – TBD
26 – Wicked Waffles
September
2 – Flight
9 – Don Sazon Empanadas
16 – Wicked Waffles
23 – TBD
30 – Lola's Lumpia
October
7 – Don Sazon Empanadas
14 – Wicked Waffles
21 – Flight
28 – Lola's Lumpia