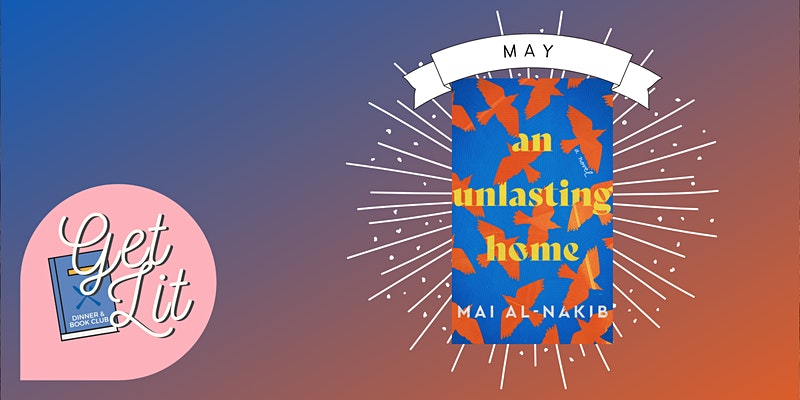 May Book Club: An Unlasting Home
MAY PICK: An Unlasting Home by Mai Al-Nakib
Tuesday, May 17 & Wednesday, May 18
6:15 p.m. | Meet-and-greet
6:30 p.m. dinner & discussion | The Junction
3-course dinner from The Junction | $55 (includes drink pairings, tax, and tip)
Join us at The Junction to discuss An Unlasting Home by Mai Al-Nakib. Attendees must purchase a dinner ticket to attend; there are 35 spots for each night available for in-person seating.
Every month we gather to discuss the book over an original, three-course meal with drink pairings inspired by the book. Purchase your dinner ticket to let us know you'll be coming!
A note about COVID concerns: While we plan to have May's meeting in person, we will be ready to pivot to either outdoor dining or virtual meeting with to-go meals if COVID guidelines change between now and May 17. Please also note the update to our refund policy below.
Find a copy from the bookstore or order online:
Hardcover | $27.99
Audiobook | $31.04 (or membership)
Get Let Book Club Subscription Box: $35/month | includes the book of the month and other thematic goodies!
The Fine Print
Book Orders: If you are purchasing the book through Eventbrite, Please reach out to Itinerant Literate for book pickup instructions: info@itinerantliteratebooks.com or (843) 225-6569.
Refund policy: Refunds will be granted up to the Sunday before the event. After this time, the Junction has begun preparation for the dinner and cannot grant refunds for the costs. Credits may be given on a case-by-case basis.
Transfer policy: Attendees can transfer their Tuesday night ticket to Wednesday night or vice versa if scheduling conflicts arise. If a transfer occurs within 12 hours of the event, please reach out to Itinerant Literate at info@itinerantliteratebooks.com or (843) 225-6569 to notify organizers of the change.
About the Book:
The debut novel from an award-winning short story writer: a multigenerational saga spanning Lebanon, Iraq, India, the United States, and Kuwait that brings to life the triumphs and failures of three generations of Arab women.
In 2013, Sara is a philosophy professor at Kuwait University, having returned to Kuwait from Berkeley in the wake of her mother's sudden death eleven years earlier. Her main companions are her grandmother's talking parrot, Bebe Mitu; the family cook, Aasif; and Maria, her childhood ayah and the one person who has always been there for her. Sara's relationship with Kuwait is complicated; it is a country she always thought she would leave, and a country she recognizes less and less, and yet a certain inertia keeps her there. But when teaching Nietzsche in her Intro to Philosophy course leads to an accusation of blasphemy, which carries with it the threat of execution, Sara realizes she must reconcile her feelings and her place in the world once and for all.
Interspersed with Sara's narrative are the stories of her grandmothers: beautiful and stubborn Yasmine, who marries the son of the Pasha of Basra and lives to regret it, and Lulwa, born poor in the old city of Kuwait, swept off her feet to an estate in India by the son of a successful merchant family; and her two mothers: Noura, who dreams of building a life in America and helping to shape its Mid-East policies, and Maria, who leaves her own children behind in Pune to raise Sara and her brother Karim and, in so doing, transforms many lives.
Ranging from the 1920s to the near present, An Unlasting Home traces Kuwait's rise from a pearl-diving backwater to its reign as a thriving cosmopolitan city to the aftermath of the Iraqi invasion. At once intimate and sweeping, personal and political, it is an unforgettable epic and a spellbinding family saga.