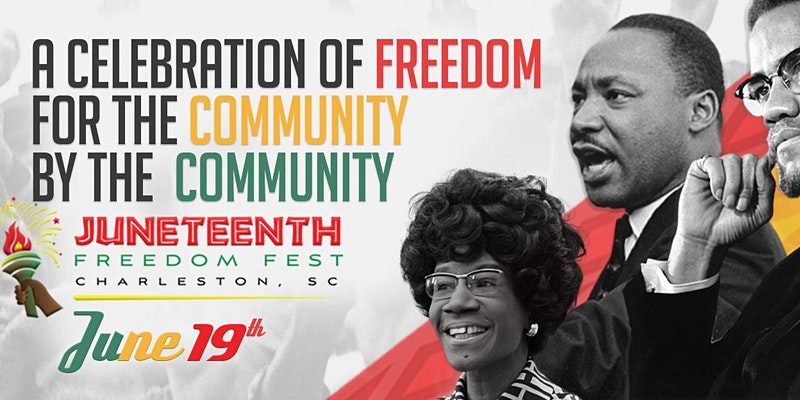 Juneteenth Freedom Fest
On June 19th, 2021, The Annual Juneteenth Freedom Fest Charleston will be held at the Riverfront Park located in North Charleston, SC. Celebrating Juneteenth in Charleston, South Carolina as a large-scale event is significant.
According to the International African-American Museum, nearly half of enslaved Africans brought to America came through Charleston, and nearly 80 percent of African-Americans can potentially trace an ancestor who arrived in Charleston. Juneteenth Freedom Fest Charleston is free to the public with an estimate of 3000 guests in attendance.
The event will last all day kicking off at 2 pm and ending at 10 pm with a Grand Fireworks Show Finale! There will be live performances throughout the day, Art, Music, Food, and Kids Activities. Juneteenth Freedom Fest Charleston is a celebration organized to bring our community together from every walk of life in celebration of our journey to freedom for all, libration, and remembrance of how far we have come and where we are going. Join us for the First Annual Juneteenth Freedom Fest in Charleston, SC, and let's celebrate together!
***FREE event, FREE parking. Bring the entire family! ***
***Guests are encouraged to bring lawn chairs, blankets, tents, and bug spray.***
For complete schedule of events, visit – www.juneteenthfreedomfestchs.com/