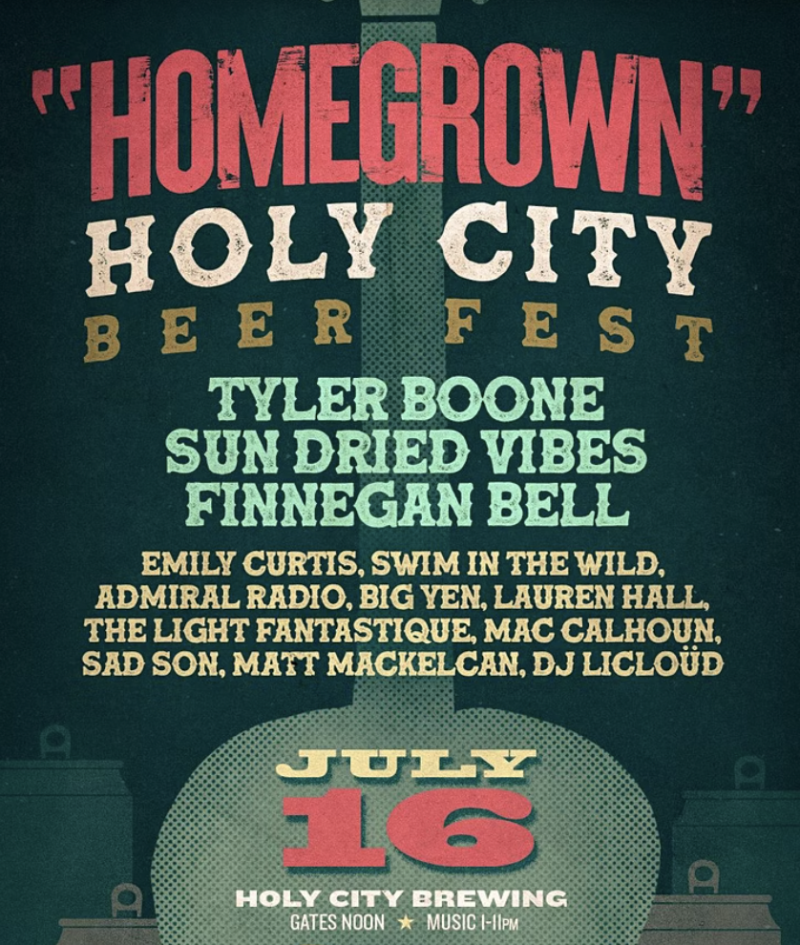 Holy City Homegrown Festival
Come hang out on our lawn for a full day of beer, food, & music hosted by Holy City and Boone's Bourbon, presented by 105.5 The Bridge!
Featuring Artists:
Matt Mackelcan, Sad Son, Mac Calhoun, The Light Fantastique, Lauren Hall, Big Yen, Admiral Radio, Swim in the Wild, Emily Curtis, Finnegan Bell, Sun-Dried Vibes, Tyler Boone, & DJ lil' Cloud.
Vip Includes access to Holy City's new private venue space, VIP bathrooms, a beer and bourbon tasting A/C from Boone's Bourbon and raffle prizes all day!
Gates open at 12:00 pm
The show goes from 1:00 pm to 11:00 pm
***
We encourage you to bring your own lawn chair or blanket so you come ready to enjoy amazing local music with local brews, and local food at the incredible new location of Holy City Brewery on the lawn by the water!
This is also the special release of the "Boone's Beer" a collab between Holy City Brewery & "Homegrown" Boone's Bourbon!
***
1) Early bird tickets are now available at a discounted price
2) VIP ticket holders will have access to the Porter Room VIP area, their own cash bar, a complimentary "Boone's Beer" & Boone's Bourbon cocktail & will be a part of raffle prizes all day!
Check out the Venue, click the link below:
https://charleston3dadvantage.com/3d-model/holy-city-brewing/fullscreen/