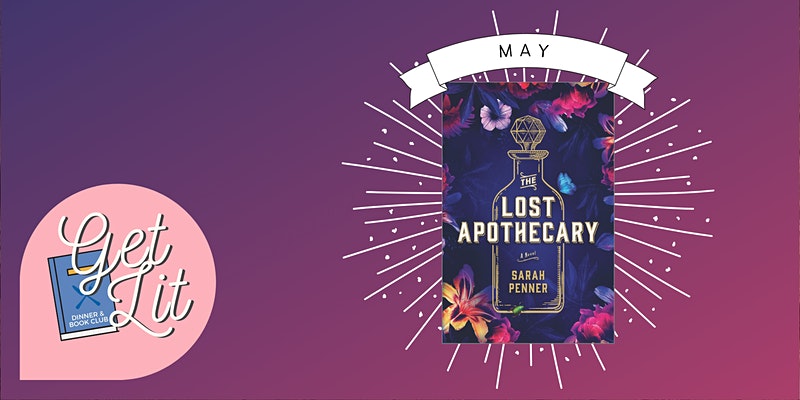 Get Lit Dinner and Book Club
Monthly book club meeting!
About this Event
MAY PICK: The Lost Apothecary by Sarah Penner
6:30 pm dinner & discussion | At home or at the Bookstop
3-course takeout menu from The Junction | price $28 + optional wine add on (OPTIONAL)
Join us virtually or at the bookstore to discuss The Lost Apothecary by Sarah Penner, who will join us virtually for discussion! Every month we gather to discuss the book over an original, three-course meal with drink pairings inspired by the book. We can't gather in person at The Junction like usual, but we can still discuss the books! Register to let us know you'll be coming, and we'll send out a meeting link prior to the event.
If you opt to join us in the backyard of the bookstore, please plan to bring your own seating (and table if needed) and wear a mask.
Find a copy from the bookstore or order online:
Hardcover | $27.99
Ebook | $14.99
Audiobook | $31.04 (or subscription) | available at Libro.fm (through membership or purchase)
About the Book:
In this addictive and spectacularly imagined debut, a female apothecary secretly dispenses poisons to liberate women from the men who have wronged them—setting three lives across centuries on a dangerous collision course. Pitched as Kate Morton meets The Miniaturist, The Lost Apothecary is a bold work of historical fiction with a rebellious twist that heralds the coming of an explosive new talent.
Rule #1: The poison must never be used to harm another woman.
Rule #2: The names of the murderer and her victim must be recorded in the apothecary's register.
One cold February evening in 1791, at the back of a dark London alley in a hidden apothecary shop, Nella waits for her newest customer. Once a respected healer, Nella now uses her knowledge for a darker purpose—selling well-disguised poisons to desperate women who would kill to be free of the men in their lives. But when her new customer turns out to be a precocious twelve-year-old named Eliza Fanning, an unexpected friendship sets in motion a string of events that jeopardizes Nella's world and threatens to expose the many women whose names are written in her register.
In present day London, aspiring historian Caroline Parcewell spends her tenth wedding anniversary alone, reeling from the discovery of her husband's infidelity. When she discovers an old apothecary vial in the River Thames, she can't resist investigating, only to realize she's found a link to the unsolved "apothecary murders" that haunted London two centuries ago. As she deepens her search, Caroline's life collides with Nella's and Eliza's in a stunning twist of fate—and not everyone will survive.
With crackling suspense, unforgettable characters, and searing insight, The Lost Apothecary is a subversive and intoxicating exploration of women rebelling against a man's world, the destructive force of revenge, and the remarkable ways that women can save each other despite the barrier of time.