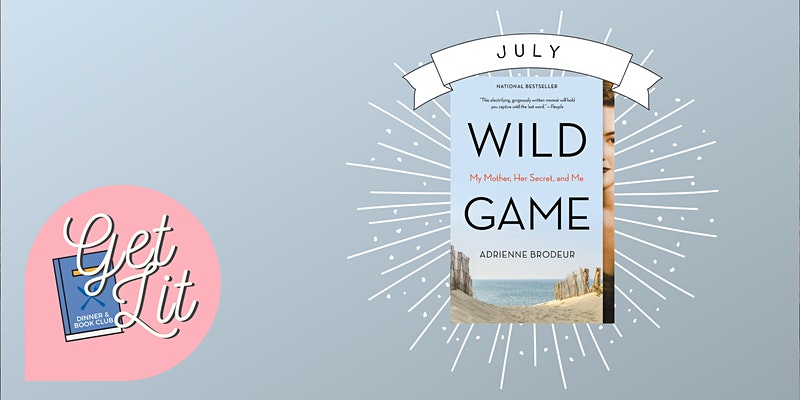 Get Lit Dinner and Book Club – July
JULY PICK: Wild Game by Adrienne Brodeur
6:15 pm | In-person meet-and-greet
6:30 pm dinner & discussion | The Junction
3-course dinner from The Junction | $49 (includes wine pairings, tax, and tip)
Join us at The Junction to discuss Wild Game by Adrienne Brodeur! In-person attendees must purchase a dinner ticket to attend; there are 25 spots available for in-person seating.
Every month we gather to discuss the book over an original, three-course meal with drink pairings inspired by the book. Purchase your dinner ticket or register to let us know you'll be coming, and we'll send out a meeting link prior to the event.
Find a copy from the bookstore or order online:
Paperback | $16.99
Ebook | $9.99
About the Book:
"Exquisite and harrowing." —New York Times Book Review
On a hot July night on Cape Cod when Adrienne was fourteen, her mother, Malabar, woke her at midnight with five simple words that would set the course of both of their lives for years to come: Ben Souther just kissed me.
Adrienne instantly became her mother's confidante and helpmate, blossoming in the sudden light of her attention, and from then on, Malabar came to rely on her daughter to help orchestrate what would become an epic affair with her husband's closest friend. The affair would have calamitous consequences for everyone involved, impacting Adrienne's life in profound ways, driving her into a precarious marriage of her own, and then into a deep depression. Only years later will she find the strength to embrace her life—and her mother—on her own terms.
Wild Game is a brilliant, timeless memoir about how the people close to us can break our hearts simply because they have access to them, and the lies we tell in order to justify the choices we make. It's a remarkable story of resilience, a reminder that we need not be the parents our parents were to us.