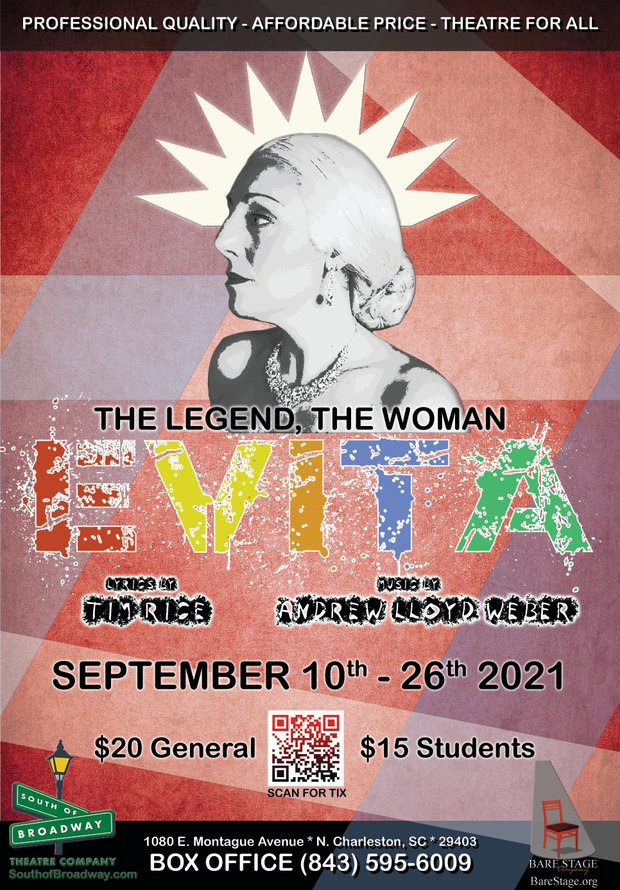 Evita – South of Broadway Theater
South of Broadway Theater and Bare Stage Present: Andrew Lloyd Webber's Evita
South of Broadway and BareStage Partner in Evita and Guys and Dolls
Exciting new theatre company, BareStage, and South of Broadway Theatre Company (SOBTC) announce their Fall partnership to include three productions including Andrew Lloyd Webber's Evita and Frank Loesser's Guys and Dolls bookended with Guys and Dolls, Jr. performed with SOBTC's junior company.
Evita performances are September 10 – 26. The role of Evita will be performed by Elissa Horrell. Recent roles include Cassie in A Chorus Line, Rosie in Bye Bye Birdie, Audrey in Little Shop of Horrors, Janet van de Graaff in The Drowsy Chaperone. Carlos Luis Nieto will play the role of Che. He was recently seen as Agatha Trunchbull, in Matilda, and Jesus in Hands on a Hard Body. Steve Tarnow will play Juan Peron. Other roles have included Sweeney Todd and Valmont in Les Liaison Dangereuses.
Veteran director, David McLaughlin, directs and deploys his cast with genius and theatricality only gained through directing more than 130 shows, a small sampling of which include Hairspray, Rent, Les Miserables, Legally Blonde, West Side Story, and A Chorus Line.
BareStage is a new, emerging theatre company committed to creating quality, life-changing theatre, at an affordable price. Artistic Director, David McLaughlin and Executive Director Elissa Horrell have produced, directed, taught, and performed in hundreds of shows. Their story as friends began at auditions for Little Shop of Horrors at Flowertown Players, and ultimately inspired them to start their own company to: "…show Charleston what theatre is really about: community. We believe that the beauty of theatre is found in the stories we tell and the relationships we create. Relationships not just with our fellow cast and crew, but with our audience and the communities we live in. Our goal is to create shows that focus on talent, not elaborate sets, and to prove an experience that is affordable for everyone."
South of Broadway Theatre Company has been a center for the arts in greater Charleston since 2004 with its home in trendy Park Circle. We are a non-profit organization seeking to cultivate talent, uplift our community and to illuminate the human experience through theatre. To learn more or get involved, visit www.southofbroadway.com, or follow us on FB and Instagram @ofBroadway.
"We are delighted to partner with Bare Stage which shares our theatrical goals and who we have long admired and worked with." – Mary Gould, Founding Artistic Director, South of Broadway Theatre Compan
All performances are at:
1080 E. Montague Ave.
For tickets and information:
barestage.booktix.com
843 595-6009